Despite such attempts bearing little fruit during the 11th Five-Year Plan, the railways hasnt given up its intent to plan big projects based on the PPP model in the current Plan period. In an ambitious move, PK Bansal on Tuesday doubled the target for private investment from R50,000 crore during last Plan period to R1 lakh crore in the 2012-17 period.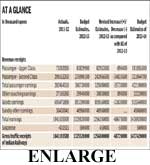 The railways attracted merely R8,000 crore during 2007-2012. The government has been trying hard to get private firms invest in various projects like development and modernisation of world-class stations, dedicated freight corridors, the Mumbai elevated freight corridor and coach factories. Most of them have seen indefinite delays.
The modernisation of 100 major railway stations with an estimated investment of R10,000 crore has been pending for five years. Similarly, the two proposed locomotive factories at Marhaura and Madhepura in Bihar via PPP despite the railways relenting on the terms and conditions of the bids to attract private investors have not seen the light of the day yet.
Private companies have stayed away mainly due to low returns on investment. Bansal conceded that investments through PPP were challenging, considering the capital-intensive and long-gestation nature of infrastructure projects.
Cooperation of states is being sought to provide momentum to these initiatives. The recently revamped participative policy seeks to create a win-win situation by ensuring payback of investment, mainly through freight apportionment, said Bansal.