The Central Bureau of Investigation (CBI) has submitted its report in regard to the Rs 25-lakh crore foreign exchange derivatives scam. The agency has agreed that there has been violation of the Foreign Exchange Management Act (Fema), but has found no instance of criminal conspiracy in the matter.
The Orissa High Court had directed the CBI to investigate into the alleged derivatives scam arising out of faulty derivative agreement and had asked CBI to file a preliminary report to the court by November this year.
The CBI in its report dated November 4 has observed, From the responses received from the Reserve Bank of India and the Forex Derivatives Consumers Forum, it is apparent that violation of Fema has taken place in the forex derivatives contracts signed by various banks. However, it may be appreciated that no instance of criminal conspiracy or offences of cheating or other IPC sections or the offences under Prevention of Corruption Act has been disclosed during the course of enquiry into the matter.
The Orissa High court had ordered the agency to submit its preliminary investigation report by November 4, 2009, following the petition filed by advocate Pravanjan Patra in the court seeking a direction to make investigation into the draining out of Rs 25 lakh crore from the forex reserve of the country.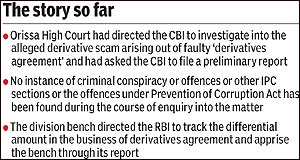 A division bench consisting of acting chief justice IM Quddushi and justice Kumari Sanju Panda gave the order on Wednesday and fixed the next date of hearing to November 17.
The Reserve Bank of India (RBI) also appeared through its lawyer and filed its counter affidavit in this matter. Earlier, the bench also directed the RBI to track the differential amount in the business of derivative agreement and apprise the bench through its report by November 4.
The petitioner had also alleged that the magnitude of the scam has created stir in the minds of the public as well as business houses, which has great ramification on the foreign exchange reserve of the country.
Corporates across the sector had entered into derivatives agreements with the nationalised and private banks to safeguard their foreign exchange risk. RBI had earlier intervened in the forex market by the way of purchasing excess dollars and building its reserves from $100 billion to $300 billion. But RBI did not sell enough dollars to stabilise the demand and supply ratio.
The forex derivatives contracted to the tune of $3 trillion were traded in India as on December 2007 whereas the total foreign exposure of India is not more than $500 billion annually.
During that time dollar had continuously appreciated against rupee and reached a level of Rs 39 but the fact was coupled with the widely circulated reports wherein the banks and the analyst continued to harp on the fact that dollar will further depreciate and touch levels like Rs 33 or so. During the period there wasnt any caution from government bodies like RBI or ministry of finance on the credibility of the reports.