Banks are expected to report a 39-46% y-o-y increase in earnings for the three months to March 2012, according to analysts estimates. A Citibank report states that Indian banks' earning slowdown should reverse in Q4. "We can we expect a 46% y-o-y profit growth (16% excluding SBI). Net profits will be robust driven by higher yields, peaking credit charges and easing operating expenses, the report observed.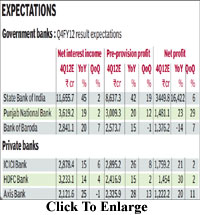 A Kotak Securities report notes that the overall earnings growth rate for the public sector banks will look inflated, thanks to SBI registering strong numbers on the back of a low base. SBI reported weak earnings during Q4FY11. "Our PSU banking universe is likely to grow faster at 71.9% (ex-SBI:decline of 4.2%) while private sector banks under our coverage are likely to grow at 21.3%. Several PSU banks will report contraction in earnings (Canara Bank, Andhra Bank, Union Bank, OBC, etc) due to higher credit costs," the Kotak report said.
The Citibank report states that the net interest income (NII) for private sector banks will grow at 17% yoy while the corresponding number for public sector banks will stand at 24%. Non-interest income will also remain moderate due to muted treasury income and third party distribution product income.
Kotak Securities expects a marginal compression in net interest margins (NIMs) to the extent of 5-10 bps on a sequential basis. The sustained pressure on liquidity has elevated the cost of funds in Q4. The average 3-month, 6-month and 12-month certificate of deposit (CD) rates increased by 71 bps, 46 bps and 95 bps, respectively, since December 2011 till the end of the quarter.
Higher bulk deposit rates and lower pricing power due to lower loan growth are also expected to impact margins. SBI and ICICI are among the two large-cap banks which are expected to show improvement in margins despite adverse conditions.
As far as asset quality is concerned, an HSBC report states that restructured accounts will remain single biggest pressure point against an improving outlook on asset quality. The restructured book has risen especially on the corporate side (aviation, mining, textiles etc) in recent times.
Unlike the public sector banks, private banks have improved their asset quality over the last two years and this will help reduce their provisioning expenses in Q4. While analysts expect 12.1% and 12.7% q-o-q increase in gross and net NPA levels for public sector banks, the corresponding numbers for private banks will be around 1% and 4%, respectively.