The norms, released as a measure to liberalise foreign direct investment (FDI) flows into India, had resulted in seven Indian banks being labelled as foreign-owned and India- controlled entities, which severely restricted their existing downstream investments in sectors like insurance.
The government has now decided to make an exception for the banking sector, a senior government official familiar with the development told FE. This means banks will not be governed by the new rules on FDI. The department of industrial policy and promotion (DIPP), the nodal agency for FDI policy, is soon expected to clarify the policy relaxation for banks. After that, downstream investments of ICICI Bank and HDFC in their respective insurance companies will not be counted as FDI.
Under the foreign investment regime articulated by Press Notes 2, 3 and 4, a company with more than 50% foreign equity will be considered as foreign-owned and its downstream investments will have to conform to sector-specific restrictions applicable under the FDI policy.
These Press Notes of February further widened the FDI definition to include foreign institutional holdings, NRI investments, depository receipts such as depository receipts, foreign currency convertible bonds, convertible preference shares and convertible currency debentures.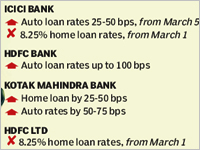 Soon after DIPP released the new investment rules, RBI raised objections.
The central bank pointed out that ICICI Bank, ING Vysya, YES Bank, HDFC Bank, Development Credit Bank, IndusInd Bank and Federal Bank will get labelled as foreign-owned Indian-controlled entities. ICICI Bank had also shot off a letter to DIPP, mentioning that it is not a foreign-owned bank.
While the maximum FDI in the insurance sector is 26%, ICICI Bank and HDFC have 74% stake in ICICI Prudential Life Insurance Co Ltd and HDFC Standard Life Co Ltd, respectively. This, by the new norms, is a breach of the sectoral cap and the banks would have to restructure their downstream holdings. According to National Stock Exchange data, foreign stake in ICICI bank is 63.76% and in HDFC is 74.88% as on March 31, 2009.
The department of economic affairs, under the finance ministry, had also asked DIPP to clarify the impact of the Press Notes. Several rounds of parleys were held between RBI, DIPP, the banks and the finance ministry. DIPP had been opposing a complete reversal of the norms, but was ready for minor tweaking. These (the Press Notes) are well-considered decisions. I do not see any reason why a comprehensive review is required, commerce minister Anand Sharma had said, after taking charge last May.
Press Notes 2, 3 and 4 brings in a new concept of control while considering FDI proposals, along with the practice of taking into account ownership patterns. The Press Notes mandate that if Indian individuals have more than 50% stake in a operating-cum-investing company and the power to appoint a majority of the directors, such firms will be considered Indian. Hence, downstream investments of such companies with foreign equity will not be considered as FDI, and can be directed to any sector. FDI inflows are restricted in sectors like multi-brand retail and gambling. Moreover, in sectors like media, telecom, banking and defence production, the quantum of FDI is capped.
Apart triggering complaints by banks, the new norms also created confusion amongst Indian corporates and policy observers. The key observation of experts was that the new norms would mean that foreign investments can now be directed to restricted sectors thorough joint ventures with Indian-owned and controlled companies.
Then, there is no clarity on who the owner or promoter was in the case of firms with diversified shareholdings. Reflecting these concerns, RBI had noted, Control may be maintained through other forms such as funding through preference shares or loans, vesting of executive authority or super-minority provisions (like the right of first refusal or veto power) in minority shareholders through shareholder agreements. Therefore, there is a need to fine-tune the definition of control rather than relying on the power to appoint majority directors.