The bank's Q3FY11 earnings grew 61% YoY due to a low base and were in line with our operating profit estimate but lower than our net profit level given the ad hoc provisions for pension liabilities of Rs 2.28 bn. Key surprises were a jump in margins and improvements in asset quality. The stock was up 7% post- results.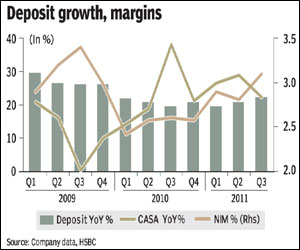 Loans and deposits grew in line with industry levels at 12.6% and 10% YTD (year-to-date), respectively. Margins expanded steeply by 28 bps QoQ to 3.09% unlike peers as BoIs cost of funds surprisingly remained flat QoQ despite a steeply rising interest rate scenario. Employee cost rose sharply by 35% YoY due to ad hoc provisions for the new pension liability. The bank now has a reserve of Rs 6.6 bn, which it may use when the pension liability crystallises. It made full provisions of Rs 2.02 bn towards one of Lehmans exposures. Asset quality surprised positively with slippages slowing down to 0.9% from over 1.5% in H1 and a large ticket upgrade, which resulted in a decline in gross NPLs (non-performing loans).
We expect BoIs asset growth will continue to be in line with the industry. However, the current high margins are likely to retract partially as deposit repricing catches up by Q1FY12. On the asset quality front, with the bank seeing through much of the pain in the last five quarters, slippages are likely to moderate to 1-1.3%. We are fine-tuning our net profit estimates with a 2.7% reduction for FY11 and FY12.
After five sluggish quarters, Q3 earnings warrant a relook at the stock given the 20-30% underperformance to the Sensex as well as the Bankex since the peak in Oct 2010. We continue to value BoI at 6.7x (times) and 1.4x 12-month rolling PE and PB (price-to-earnings & price-to-book), respectivelysimilar to its FY12 trading multiple. Accordingly, we upgrade the stock to Overweight from Neutral and keep our 12-month target price at Rs 546, implying a potential return (including dividends) of 21%.
We value Bank of India using a weighted average combination of PE, PB, and EPM (economic profit model) methodologies. We assign a 75%, 15% and 10% weight each to the PE, PB and EPM components, respectively.
HSBC