Banks' non-food credit growth gained pace in the fortnight ended November 16 and grew at 16.46% as consumers hiked spending owing to the festival season.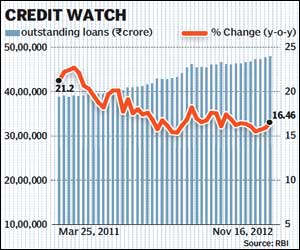 RBI data showed that credit growth for the said fortnight at 16.46% was higher than the average 15% seen during the previous three fortnights. Outstanding non-food credit was Rs 47,86,333 crore as on November 16 and banks disbursed Rs 30,525 crore during the fortnight. Increase in consumer spending was also reflected in the reserve money data released by the RBI. The data shows that currency in circulation rose by 2.2% during the week ended November 16 indicating higher consumer spending. Most bankers expect credit growth to pick up keeping in trend with recent years wherein loan disbursals increase in October-March.
However, given the slowdown in the economy and weak investment climate in the current financial year, overall loan growth is likely to be around 16% as per the RBI compared with an earlier projection of 17%.
Credit growth had so far remained even below the lowered RBI projection of 16%.
Bank deposit growth continued to lag credit expansion and was up by 13.43% on year in the said fortnight. During the fortnight, banks' deposits shrunk by R25,789 crore. The wide gap between credit growth and deposit growth has kept the banking system's liquidity under stress for an enduring period.
Banks have been borrowing more than R1 lakh crore on a daily basis from the RBI's repo tender to meet cash shortfalls.