The abysmal power situation in Uttar Pradesh may be causing heartburn among senior government officials, who are hard pressed to bridge the demand-supply gap, but for John Howard and Amit Shah, co-founders of Bangalore-based Duron Energy, it provides the biggest opportunity to promote solar energy.
Launching the first multi-functional solar home power system Duron Pro in the country, John Howard said UP provides exciting challenges and tremendous potential. The company will target the countryside where power cuts are extensive. ?In the beginning, we will start with ten districts around the state capital, including Rae Bareli, Sitapur, Hardoi, Unnao, Pratapgarh, Shahjehanpur, Lakhimpur Kheri and Barabanki. ?We have been conducting extensive research for a year and have also done some initial field tests. At Rs 5,999, we can provide a quality of life that is missing in the rural hinterland,? says Howard.
Indeed, the problem of outages is so severe that barring a few cities such as Lucknow, Agra and Allahabad, all other districts of the state face heavy roistering of 10-16 hours. The Duron Pro comes with a 5 watt solar panel that charges the system from the sun for free and also includes three overhead lights that use advanced LED technology. In fact, the problem that is usually faced by many people in the towns is that they are unable to charge their cell phones too due to lack of power. Duron Pro looks into this problem too and provides a mobile phone charger with the set. ?UP is the most populous state in India but it has one of the lowest per capita power consumption in the country. With Duron, Pro, we will solve this problem by providing renewable energy which is affordable and multi-functional as well,? said Howard, adding that after the successful launch in UP, the company will head to Karnataka in January. Stating that the company is trying to work out deals with micro financing institutions to finance the portable set to consumers, Amit Shah said the biggest challenge is to create awareness about solar power. ?Along with forming the normal distribution channel, we will are also planning to tie up with NGOs in the rural villages.?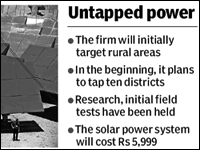 It may be mentioned that the power scenario in UP has worsened and in the event of long roistering, inverters also do not operate due to insufficient power to charge the batteries.