Close on the heels of imposition of export duty on cotton, the government on Tuesday suspended the mandatory pre-shipment registration of raw cotton and cotton waste indefinitely, effectively stopping fresh cotton exports from the country.
The move though aimed at cooling domestic prices, evoked divergent responses from exporters, farmers and the textile industry. While the exporters and farmers termed the move anti-people, the textile industry called the move as appropriate.
Some experts said the ban could further inflate international cotton prices, which had touched a two-year high last month. Pursuant to the inter-ministerial meeting on steep increase in prices of cotton, the government has decided that the registration of export contracts prior to shipment of raw cotton...shall now be suspended with effect from April 19, 2010, till further orders, a statement from the textiles ministry said.
However, the restrictions wont apply on cotton already registered for exports.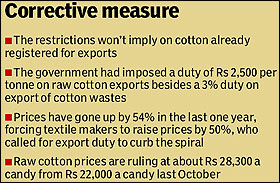 For the first six months of the current cotton season (October-September), about 80 lakh bales have been registered for exports with the Textiles Commissioner, of which 60 lakh bales have already been shipped, sources said.
Raw cotton prices are ruling at about Rs 28,300 per candy (1 candy= 356 kg) from Rs 22,000 per candy last October.
Prices have risen by almost 54% in the last one year, forcing textile makers to raise prices by 50%, who called for imposition of export duty to curb the price spiral. Earlier, the government had imposed a duty of Rs 2,500 per tonne on raw cotton exports, besides a 3% duty on export of cotton wastes.
Global prices will rise further significantly....India with enough output and stocks was meeting a global supply shortage so far....now the supply is suddenly stopped, Reuters reported, quoting Vandana Bharti, head of research at SMC Comtrade.
We welcome the decision...but this move a few months ago could have had a better impact on price control, said DK Nair, secretary general at Confederation of Indian Textile Industry.
Meanwhile, exporters and farmers of Gujarat have condemned the decision of the textile ministry.
Condemning the move, convener of Gujarat Kapas Heet Rakshak Sangh, (an association working for the protection of farmers engaged in cotton farming), Sudhakar Patel said, there are no restrictions on imports of cotton, while the central government has imposed various direct and indirect restrictions to hamper cotton exports. We condemn and oppose the move, as ultimately the farmers will suffer.
In 2008-09, India produced 29-million bales of cotton. For 2009-10, the forecast is slightly up at 29.2-million bales.