Bajaj Auto, the country's second largest motorcycle manufacturer, has increased the prices of all its bikes in a bid to pass on the burden of high input cost to the customers.
The price hike will be in the range of Rs 800 to Rs 1,000. The move comes close on the heels of the market leader Hero Hondas price rise of its products by upto Rs 1,000 earlier this month.
The company has sent the letter to the dealers on price hike almost eight to nine days ago, a n executive of Bajaj Auto said.
The increase in prices would help the Pune-based automaker improve its operating margin which has been under pressure due to cut-throat competition in the motorcycle market amid high commodity prices.
We have increased prices across all the models including Platina. The increase varies from Rs 800 to Rs 1,000. On selected bikes the hike is Rs 1,000. The revision in price is the result of increasing material price, Bajaj Auto CEO (two wheeler) S Sridhar told FE confirming the development.
Bajaj Auto sold 2,69,488 units of motorcycles in May led by Pulsar and Discover, registering a growth of 63%. Almost all the bikemakers the last few months seen their sales soaring on the back of robust economy and growing purchasing power of the people in rural India. The industry has seen exponential growth mainly due to low base in the first six months of last financial year.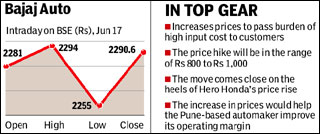 The growth will continue as overall economic environment is positive, an industry watcher said. The two-wheeler manufacturers, however, are expected to see pressure on their margins mounting up due to high input cost. While there has been correction in the commodity prices in the last one-and-half months the prices are still significantly high on year-on-year basis.
Before the correction about a month back, the input costs were up 20%. Bajaj might have increased prices sensing margin pressure in coming quarter, auto analyst at brokerage firm Vaishali Jajoo said.
Two-wheeler manufacturers are able to pass on the increase in input cost as demand is on the rise. According to Society of Indian Automobile manufacturers (Siam), domestic sales of two-wheelers increased by 25.43% to 17.92 lakh in April-May this year as against 14.28 lakh in the first two months of the previous fiscal. Production during the same period jumped 31% on increased economic activities.