The woes of the industries based in the pharma hub of Baddi-Barotiwala-Nalagarh in Himachal Pradesh, are expected to be addressed soon. As three new projectscommon effluent treatment plant (CETP), bigger roads and skill development centreget the final approval from the Centre, the industrial region will be set for a new high in terms of infrastructure.
These projects have been sanctioned by the ministry of commerce and industry under the Industrial Infrastructure Upgradation Scheme (IIUS) to be implemented at the Pharmaceuticals and Allied Industries Cluster, Baddi, Barotiwala in district Solan. The projects will be developed for the first time under the IIUS in Himachal Pradesh. As per estimates, the spin offs will be for 1,000 registered industrial units employing over 5,000 persons.
Sources in the Baddi Barotiwala Nalagarh Industries Association (BBNIA) told FE that the final nod is expected by end of this month.
A senior official said, The detailed project report has been submitted to the department of industrial policy and promotion on November 10. The ministry of commerce and industry has already given in principle approval for setting up of these projects and now the final approval is awaited.
An SPV has been floated in the name of Baddi Infrastructure for implementation of the scheme.
Rajender Guleria, president, BBNIA, said, Out of the total cost estimate of Rs 82.3 crore, the CETP will cost around Rs 54 crore, 13 km of new industrial roads will cost Rs 17.24 crore and the skill development centre will entail an investment of Rs 8.1 crore. The balance amount will be spent on various other operations related to the projects. The Centre will provide funds to the tune of Rs 60 crore, the state government will provide Rs 7 crore and Rs 15.2 crore will be industry contribution.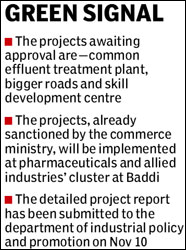 IIUS was launched in 2003 as a central sector scheme to enhance international competitiveness of the domestic industry by providing quality infrastructure through public private partnership in existing functional clusters. A site of about 126 bighas has been set aside at village Kenduwala for the common effluent treatment plant.
As per estimates of the pollution control board, the effluent treatment capacity of the CETP will be around 23 million litres per day but with deviations. The skill development centre will be developed by BBNDA and BBNIA as partners.