The government has added an element of social benefit to its latest plan for calibrated opening of the multi-brand retail sector to foreign direct investment (FDI). Only those foreign retailers who first invest in the back-end supply chain and infrastructure would be allowed to set up multi-brand retail outlets in the country. The idea is that the firms must have already crated jobs for rural India before they venture into multi-brand retailing.
According to the department of industrial policy and promotion (DIPP) which has firmed up the plan, interested players will have to first set up cash-and-carry outlets, sourcing centres and the entire supply chain, before they enter retailing. These facilities would help source farm produce and other goods from rural centres and take them to the front-end.
If the plan is implemented, Metro of Germany and Wal-Mart of US will get an edge because they already have cash-and-carry outlets in India.
The policy will be such that there will be a holistic approachcomprising the value chain from bottom to the topin allowing FDI in multi-brand retail. We will ensure that retailers who want to enter India had already created jobs here, an official involved in the discussions told FE. Also, FDI limit in multi-brand retail would be below 51%, the cap for FDI in single-brand retail. This is to ensure that control remains with Indian investors.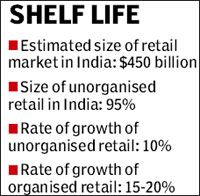 Sources said domestic organised retail chains too were in favour of FDI limit in multi-brand retail not above 49%. In such a scenario, while foreign chains would get to enter the retail market, Indian retail chains which havent fared well will get to own and control the venture while getting the technology transferred from the foreign counterparts.
None of retail chains in the country have been able to make a significant impact. While smaller ones like Vishal Retail and Subhiksha have bombed, larger ones like Reliance Retail and AV Birla group too have gone cold. They too want to partner with successful foreign firms directly and learn in the process, a source explained.
The government has floated a consultation paper inviting comments from stakeholders regarding opening multi-brand retail to foreign investment. Some ministries have already favoured opening up the sector subject to certain safeguards. Currently, FDI is not allowed in multi-brand retail, while a cap of 51% exists in the case of single-brand retail. In cash-and-carry, 100% FDI is allowed.