Even as the newly formed Civil Aviation Economic Advisory Council (CAEAC) is looking into exorbitant airfare structure, the aviation industry has mixed views on the issue. Analysts and CAEAC favour transparency in the pricing system, while airlines say they follow a revenue management system practised globally, where the sooner a traveller books, the lesser he pays.
Jitendra Bhargava, a member of CAEAC and former Air India director, said, Airlines have done a dis-service by keeping exorbitant fares at the upper end of the price band. There is a need for greater transparency on the part of airlines while ensuring profitability. Also, the government should monitor capacity induction so the growth continues and even the common man can fly. The council has been set up in the backdrop of last minute airline fares skyrocketing and is mandated to suggest regulation to protect consumer interest, like public disclosure of tariffs and conditions of service. It would also advise suitable policy for ensuring affordable air service to remote and under-served regions, help the ministry in framing a sustainable and viable regulatory framework and assess the investment requirements. Meanwhile, there have been instances where fares have gone up to Rs 40,000 on the Mumbai-Delhi sector when booked in the last minute.
However, an official from a full service carrier maintains, Globally, airlines follow this revenue management system while fixing fares. The capacity of an aircraft is divided into various categories. The sooner you book, the lesser you pay. Not even 1% of the travellers would pay that kind of fare. He further adds that its only when seats are above 80-85% that you get into higher fare bracket. In such a scenario, when you have lesser seats and more customers chasing them, fares would automatically be at a premium at that time.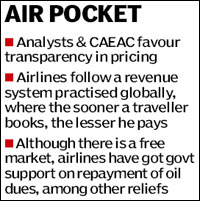 Arvind Mahajan, executive director at KPMG adds, says that although there is a free market situation, airlines have got government support on repayment of oil dues, amongst other reliefs. Exorbitant fares on high density traffic routes like Mumbai-Delhi is still justifiable, but a high ticket on Pune-Delhi going over Rs 20,000 is not justified. Airlines have to find a way of self governance while deciding on fares, he says.