Global auto majors are becoming increasingly innovative when it comes to setting up dealerships in India. Boutique showrooms are in vogue. The trend, which is picking up and was kick started by BMW India in July 2008, has been taken to a new level by SkodaAuto India, with the company opening up boutique showrooms in high footfall areas in metros.
Skoda is setting up smaller showrooms, nearly one-fourth of the actual dealership, with all or few of its brands on display on rotation basis to generate sales in high streets and high-visible areas where opening up of full scale dealership is not only expensive but also impossible because of space constraint.
Boutique showrooms, which are spread over 1,400 sqft area in Connaught Place in Delhi for instance, costs the owner a monthly rent of just Rs 3.25 lakh and accounts for 35% of the dealers total monthly sales.
Real estate cost is disproportionate in India and, therefore, there is a need to be innovative to enhance the brand visibility but at an affordable rate. Since India is unique than rest of the world including China, the concept of boutique showrooms has been developed for the first time in India and we have presented it to our headquarters to adopt it on a global scale, Ashutosh Dixit, senior general manager (sales and marketing), SkodaAuto India, said.
According to Dixit, these showrooms located in prime areas and are, therefore, more easily accessible to prospective car buyers, results into 8-10% conversion of queries into final purchase, thereby adding to the companys sales.
Since these boutique showrooms are owned by our existing dealers, it is a complete business proposition and not a mere marketing initiative as dealers even takes bookings from these showrooms, Dixit adds.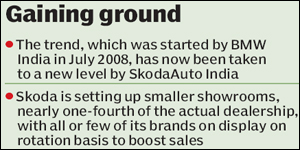 We are selling 30 cars from the boutique showroom in CP out of the total 80-85 units that we sell each month and Superb and Laura, which are more expensive, are more in demand at the boutique showroom because of the mindset of people who walk into CP, Mandeep Dhingra, the owners of Arshia Motors in Faridabad and also the owner of the Delhis only boutique showroom of Skoda said.
According to Dhingra, there is tremendous scope of increase in sales and hence higher returns from these smaller and non-traditional showrooms instead of bigger and expensive dealerships.
SkodaAuto India, a fully owned subsidiary of SkodaAuto of Czech Republic, already has three boutique showrooms in India, in Delhi, Mumbai and Kolkata and the company plans to take the number of these boutique stores to 15 by the end of 2015. The company sells Skoda Fabia, Octavia, Laura and Superb in India.
While Fabia, the companys only offering in the compact car segment, is priced between Rs 4.92 lakh and Rs 7.71 lakh, Octavia costs between Rs 10.22 lakh and Rs 13.45 lakh, Laura comes in the range of Rs 11.99 and Rs 17.5 lakh and Superb is available in the range of Rs 19.5 lakh and Rs 26 lakh.