It promises to be a bumper year for vehicle-makers. On the back of strong car and two-wheeler sales in the last 10 months and best-ever November sales, automakers are now poised to beat their targets for the current financial year. For some, this could be a couple of months before the financial year-end.
Hero Honda Motors, the countrys largest two-wheeler manufacturer, was the first to declare on Tuesday that the company will reach the targeted 4-million units much before the end of the financial year. The largest and second largest passenger carmakersMaruti Suzuki India and Hyundai Motor Indiaare well on course to meet their targets for the current year.
This is in line with FEs earlier report that the overall automobile industry is expected to end the financial year with nearly 1,06,95,730 units at a conservative growth of 10% compared to the sales of 97,23,391 units in 2008-09. This years figure would be higher than the previous record domestic sales of 1.01 crore units in 2006-07.
Anil Dua, senior vice-president (sales and marketing), Hero Honda Motors, said, We will be crossing our original indication of 4-million-units-mark much earlier than the close of this fiscal.
He attributed this to the continuous refreshment of our product portfolio, expansion of our network to over 4,000 outlets now and the fact that there has been a lot of pent up demand in the system, which is showing now.
The companys cumulative sales in the financial year so far (April-November, 2009) surged by 21% at 30,37,556 units.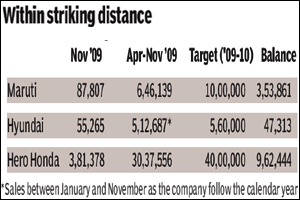 Likewise, Maruti Suzuki India, which has a target of 1-million units by the end of 2009-10, has already sold 6,46,139 units in the first eight months of the current financial year. With an average total monthly sales (domestic and export) of 85,000 units over the past few months, the company is hopeful of creating a benchmark by the end of 2009-10.
Hyundai Motor India is also on track to sell 5,60,000 units in 2009 and may even exceed the target if the record sales of September and November continued in December. While September and October sales were due to the festivals, sales in November is largely on the buoyancy in the economy and if the growth trend continues, we might exceed our target of 5,60,000 units for this calendar year, Arvind Saxena, senior vice-president, Hyundai Motor India, said. The company has so far sold 5,12,687 units between January and November with a record sales of 53,000 units in September and 55,265 units in November.