Other sectors of top interest are textiles, petro and power
As India and Pakistan explore cross-border business opportunities, specific sectors such as automobiles, textiles, petroleum and power are what the political establishments on the two sides are negotiating with a calibrated approach.
Talking to FE, Pakistan?s commerce minister Makhdoom Amin Fahim said that these sectors are some specific areas where the negotiations are under active consideration and that could soon have a positive outcome.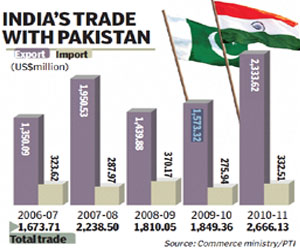 Without going into specifics, Fahim said: ?Let me tell you that automobiles is one sector which the business communities from both the countries have a keen interest in. The secretary-level talks scheduled in May in Islamabad shall be crucial for negotiations on the same.?
It is understood that once the sector is opened, companies like Bajaj Auto, Maruti Suzuki, TVS Motors and Hero MotoCorp will ship their products with minor or no modifications across the border.
Auto experts say that if exports to Pakistan is allowed, that country will be a big market in the South Asian Free Trade Area (SAFTA). India already exports automobiles to other neighbouring countries like Sri Lanka, Bangladesh and Nepal. Fahim also said that textiles could be an area of focus, adding that Pakistan has ?demanded India to accord it with an equal status that it (India) gives to other neighbouring countries?.
On the power export front, when reminded that India itself is witnessing power deficit, he said: ?I know that power is an equal requirement for both the countries. However, as the power ministries along with the commerce ministries are in a constant dialogue, I am expecting that a decision on how the export can take place will come out soon.?
Under an earlier initiative to export power to Pakistan, a joint working group headed by the power secretaries of both the nations was formulated. The group has been meeting to work out a structure under which power can be exported. It is understood that both countries will have to upgrade infrastructure for this.
Similarly, talks are also on with regard to export of petroleum products to Pakistan and Fahim said that a detailed proposal would be worked out. ?I believe a detailed discussion on cooperation in the energy sector with the Pakistan petroleum minister, Asim Hussain, and petroleum minister of India, S Jaipal Reddy, is under active discussions. India has offered to export petrol, diesel, aviation turbine fuel and other petroleum products. Import of petroleum products would be advantageous for Pakistan as well as for India. While India would be able to export its surplus petroleum products, Pakistan would save on the freight costs as Indian refineries are located close to the India-Pakistan border.?
Pakistan is already importing these products from other countries, he added. Pakistan has banned import of Indian petrol. It allowed diesel imports in 2009, but due to preferential prices offered by Pakistan?s allies, including Kuwait, supplies from India did not take off.
Both sides in September last year had noted constitution of an India-Pakistan Joint Working Group on petroleum and petrochemical products to go into the specific details of facilitating trade in this sector.