The automobile industry has struck another positive note with major manufacturers reporting their best-ever sales in the year 2009.
The good showing in the year was chiefly on the back of the governments stimulus package that reduced excise duties to jump-start the sectors growth. The low-base effect of last year is another factor that helped the growth figures.
As reported by FE earlier, the countrys auto sector is poised to record its best sales since 2006-07 this financial year, exceeding targets.
The countrys largest passenger carmaker, Maruti Suzuki India, sold 8,36,891 units in the domestic market in 2009 against 6,97,845 units in 2008, a growth of 19.9%, while total sales of Hyundai Motor India stood at a record 5,59,880 units compared with 4,89,343 units in 2008, a growth of 14.4%.
With consistent sales of over 3 lakh units a month for the whole of last year, the countrys largest two-wheeler producer, Hero Honda Motors (HHML), reported its best-ever performance for the calendar year, with sales of over 4.4 million (44,15,298) units in 2009, clocking a growth of 22%. Sales of India Yamaha Motor went up 60% at 2.18 lakh units last year.
With the overall economic scenario improving, the Indian automotive market seems to have stabilised, Arvind Saxena, senior vice-president (sales & marketing), Hyundai Motor India, said.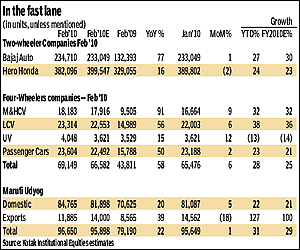 Going forward, industry analysts want the stimulus packages to remain in force even after the next Budget to help sustain the growth momentum. The stimulus packages have helped the auto industry and it hopes that the government would continue with it at least for some more time, Saxena said.
According to a Delhi-based analyst, if the stimulus package is withdrawn and consequently there is a rollback on excise duty across all categories, it would dampen consumer sentiments and slow down the pace of growth as companies will pass on the hike in duties to the customer.
Further, on the back of an anticipated increase in car prices post-Budget and huge discounts offered by most players to offset inventory, these car manufacturers have posted high double-digit growth even in December 2009. Domestic sales of Maruti Suzuki India surged by 36.5% last month at 71,000 units compared to 52,029 units during the same month in the preceding year while its closest rival, Hyundai Motor India posted a growth of 42.3% at 22,252 units vis--vis 15,602 units in December 2008.
Players like General Motors India and Mahindra & Mahindra have seen their sales almost double in December 2009. While sales of GM India increased by 104.4% last month at 8,258 units, making it the highest-ever monthly sales in the 13 years of the companys operations in India, as compared to 4,041 units in December 2008, M&M posted a growth of 120% at 22,754 units, as against 10,253 units in the same month in 2008. Utility vehicles constituted 16,999 units out of this.
Even the two-wheeler players continued on their months-long growth path with leading industry manufacturers posting high double-digit growth in December 2009. While sales of Hero Honda Motors went up by 74% in December 2009 at 3,75,838 units as against 2,15,931 units in December 2008, Chennai-based TVS Motors registered a growth of 34% in net sales at 1.19 lakh units vis--vis 89,285 units in the corresponding month in 2008. The total sales of Yamaha Motor India for 2009 jumped by 60% at 2.18 lakh units as compared to 1.36 lakh units in 2008. However, the companys December sales declined by 15.2% at 13,612 units as compared to 16,043 in December 2008.