Tata Steel Ltd, the worlds eight largest steel manufacturer, on Thursday said quarterly profits from its Indian operations more than doubled, beating estimates of most brokerage firms on strong demand from auto and construction sectors. Tata Steel also approved a joint venture (JV) with Nippon Steel on Thursday, the worlds second largest steel producer, for production and sales of flat products in Jamshedpur.
Tata Steels standalone net profit during the third quarter ended December 2009 grew 155.60% to Rs 1,191.75 crore against Rs 466.24 crore in the corresponding quarter last year. The companys net sales during the quarter stood at Rs 6,307.48 crore, up 32.77% as compared to Rs 4,750.61 crore in Q3 FY09. The company, which acquired Europe's second-largest steelmaker Corus in 2007, said its total income for the reporting quarter grew by 37.66% to Rs 6,638 crore against Rs 4,822 crore recorded in the corresponding period a year ago. Other income shot up 2,290.9% to Rs 263 crore from Rs 11 crore year-on-year. The companys earnings before interest, depreciation, tax and amortization (ebidta), however, slipped to 66.86% from 70.21% in Q3 FY09 due to rise in expenses, especially staff cost. Tata Steels shares on Thursday were up 4.81% on the back good numbers and closed at Rs 585.55 on the Bombay Stock Exchange. The companys revenues from steel business during the quarter grew 30.61% y-o-y to Rs 5,832.23 crore and from ferro alloys and minerals were up 31.15% y-o-y to Rs 523.84 crore.
The Indian operations account for a quarter of the groups annual global capacity of about 28 million tonne. Tata Steel will report consolidated quarterly results, including of its European unit Corus next month.
Meanwhile, to capture the growing demand for high grade automotive cold rolled flat product in India,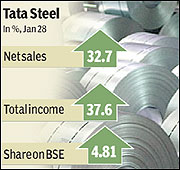 Tata Steel on Thursday entered into a JV with Japans Nippon Steel, where Tata Steel will hold 51% and Nippon Steel will keep 19% of equity capital of the JV company. Nippon Steel and Tata Steel have a long history of co-operation in the field of flat steel products for automotive grades and other areas of mutual interest. The companies will target conclusion of JV agreement in 2010 and start operations in 2013, Tata Steel said in a statement.The JV will be setting up continues annealing and processing line with a capacity of 6 lakh tonne in Jamshedpur. In addition to this, both companies will continue to discuss further collaboration in other fields such as automotive CGL or upstream processes, Tata Steel said.
India has become an attractive destination for Japanese players with a few of them entering through technical collaboration to be a part of India growth story.
The recent entrant to join the race is Japans JFE Steel Corporation, the worlds sixth largest steel producer.