Who says theres no inclusive growth Inclusive of all benefits, the peak wage of an unskilled labourer doing loading and unloading work for the state-run Food Corporation Of India (FCI) has reached R2,25,000 a month, says the latest Commission for Agricultural Costs and Prices (CACP) report.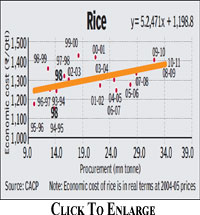 Compare this with the basic pay of a Cabinet secretary, the countrys top bureaucrat, which stands at R90,000 a month and R80,000 that the secretaries to the central government get, after the Sixth Pay Commission award. Of course, the babus get sundry perks that take their effective compensation to much higher levels, but the FCI labourer might still give them a competition.
The high wages and other benefits, coupled with an up to 14.5% impost as taxes and other charges on grain procurement not only inflate the Centres food subsidy bill by driving up purchase costs but also threaten to make the whole system unsustainable, CACP chairman Ashok Gulati told FE. They also make exports of grain from official reserves difficult without subsidy.
True, an average labourer at the procurement agency costs over Rs 35,000 a month, but the departmental (permanent) labourer, on an average, takes home Rs 75,000 per month, sources say. No wonder the FCI's permanent employee is envied as his remuneration is nearly 11 times of what a contractual worker employed in the agency gets and more than 20 times the minimum wage under the Mahatma Gandhi National Rural Employment Guarantee Scheme.
FCI chairman and managing director Amar Singh wasn't available for comment. An email query sent to him on Wednesday didn't elicit any response until the paper went to press on Thursday.
...FCI suffers from dis-economics of scale, that is, as its scale of operation increases, the per unit real costs also increase. This suggests FCI is on the high-cost segment of the cost curve. This may be due to higher procurement incidentals and increasing carrying costs of the buffer stock, CACP, which recommends procurement prices of crops to the government, observed in the report.
Between 2008-09 and 2010-11, procurement costs of paddy went up by around 35% per 100 kg and wheat by 18% (excluding the minimum support prices), according to FCI data. While rice purchase volume in the year through September 2011 almost remained unchanged from the 2008-09 level at more than 34 million tonnes (MT), wheat procurement in the year ending June 2011 rose more than 12%.
However, not every unskilled labourer is enjoying a ride in the gravy train. While the average remuneration of a departmental labourer is Rs 75,000 per month, that of a labourer under the direct payment system is Rs 30,000 per month and a contractual labourer gets just Rs 7,000 per month, which is estimated to be closer to private labourers doing the same job, official sources told FE. FCI's expenses towards salaries and remuneration in 2010-11, for which the balance sheet is available, went up 40% from a year earlier to Rs 2,345.97 crore. As of June 2010, FCI had 20,451 departmental labourers, 31,627 workers in the direct payment system and 1,21,000 contractual labourers.
Earlier this month, high procurement costs of grain forced the government to offer subsidy for export of 2 MT of wheat from official reserves to ease storage and accommodate fresh crops before monsoon picked up. The subsidy outgo is estimated at Rs 1,263 crore.
The governments food subsidy bill rose 14% to Rs 72,800 crore in the fiscal year through March, contributing significantly to the fiscal deficit which grew by one percentage point to 5.8% of the countrys gross domestic product. The government had budgeted Rs 75,000 crore as food subsidies for 2012-13, but last months 16% hike in paddy procurement price would help increase the bill by around Rs 10,000 crore.