When you see a seven-time Formula 1 champion smile like a child after test-driving a sports car, you can be sure that he was probably driving the best. To tap the growing interest in swanky sports cars among Indias fast and furious nouveau riche, Mercedes-Benz on Friday launched its much-awaited sports car SLS AMG in the Capital.
The first of its kind on Indian roads, the Michael Schumacher-endorsed SLS AMG will cost Rs 2-2.5 crore. Since giving Indian customers a peek into the car at the Auto Expo in January 2010, the company has already received 10 confirmed bookings. Underlining the importance of the luxury carmaker to set high standards on Indian roads, Wilfried Aulbur, MD and CEO of Mercedes-Benz India said: The SLS AMG represents the true spirit of our brand The Best or Nothing.
The low-ceiling car has a height of 1,262 mm, overall length of 4,638 mm and a width of 1939 mm. Powered by a 6.2-litre engine, the car can hit a top speed of 317 kmph and reach 100 kmph in just 3.8 seconds. We are very excited to come with SLS in India. We started production a couple of weeks ago in Germany; there has been no time lag in launching the vehicle in India, Aulbur said.
With its tagline Is it still a car the SLS AMG has been significantly inspired by the world of aviation. The interiors boast of a stylistic centrepiece (dashboard) giving the driver and the passenger a visual impression of its wing-like profile. The four air vents, integrated into the dashboard, also give jet-engine looks.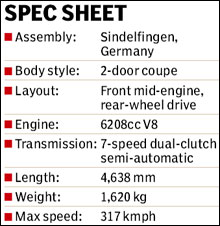 This is the first time Mercedes-Benz and AMG are presenting a car with an aluminium chassis and body, the company said in a press release. Compared with traditional steel design, this results in a significant weight savings, as clearly illustrated by the DIN kerb weight of 1,620 kg, it said.
The car, which has already made a name for itself with its status of being the official Formula 1 safety car, will have a long waiting period between six and eight months. The long waiting period is primarily because the cars for which orders are placed will have to imported from Germany.
This piece of art also sports superior driving dynamics due to the modified AMG 6.3 litre V8 front mid-engine, speed-sensitive sports steering and the light and rigid aluminium space frame.
The cars dry sump lubrication allows it to rotate 360 degrees while running.
Kapil Arora, auto analyst, Ernst & Young said that though the Indian super sports car market may be at its nascent stage, it could grow substantially. Due to rising prosperity, India has its own share of car enthusiasts and ultra-rich. These types of vehicles are not volume-generators but car makers want to have a presence in the market, he said.
Mercedes-AMG GmbH is a subsidiary of the Mercedes-Benz company that specialises in high-performance luxury cars. In June 2010, Mercedes-Benz India sold 388 units, almost doubling the 200 units sold last June. In the first quarter of 2010-11, the companys sales doubled to 799 units as compared to 393 units sold in the same period last year.
Apart from Mercedes-Benzs SLS AMG, Ferrari is expected to launch its models in India next year. Bugatti, Aston Martin (Volkswagen) and Maserati of Fiat are other super car makers that may enter India in the future.