Asus ZenFone 5 is priced at Rs 9,999 (8 GB).
Budget smartphones are in demand these days no surprises here. They come with advanced functions and user-friendly applications, not to mention an affordable tag, and are therefore high on the priority list of both the consumer as well as the device makers. Especially in a price-sensitive market such as India, they seem to simply fly off the shelves of the retail stores. If you desire to purchase them online, you are greeted with an out of stock message.
Spotting an opportunity, Asus has debuted its ZenFone 5 phone. But does the Taiwanese device makers latest device (ZenFone 5) have what it takes to stand out among the stiff competition Let us find out.
At first look, the ZenFone 5 is tempting. Its simple, classic design, array of features and budget price tag are attractive. The device combines a spacious high resolution, high-definition (HD) display with a highly portable design. It has a 5-inch IPS panel that delivers pretty impressive high definition 1280 x 720-pixel resolutionand in an attractive design that tapers to just 5.5 mm at its thinnest edge. The phone retails for Rs 9,999 for a 8 GB variant. It is available in four coloursCharcoal Black, Pearl White, Cherry Red, and Champagne Gold.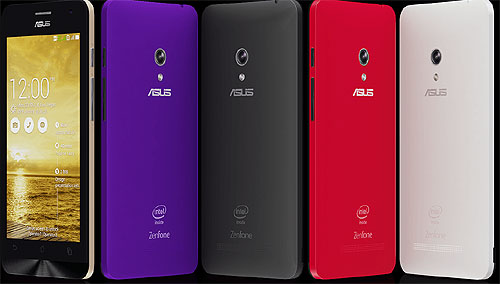 Out of the box, the ZenFone 5 comes across as a stylish and sturdy phone with a pretty good build quality. From an ergonomics point of view, theres little to criticise about the design and handling of the ZenFone 5. It sports a slightly curved, soft-touch rear that feels great in the palm of our hands. Its matte texture also helps to give a better grip of the device, especially for consumers who find the 5-inch form factor a little too large to hold in one hand.
The fit and finish is great and it has a comforting weight to it that feels substantial but not heavy. The 5-inch Corning Gorilla Glass 3 screen provides scratch resistance and durability. At 720p screen resolution, the display was sharp and clarity was not an issue when watching videos. As mentioned earlier, the curved plastic back makes the phone comfortable to hold.
Closer inspection revealed that the ZenFone 5 runs on Android Jelly Bean 4.3 and is powered by an Intel Atom Z2560 processor that runs at 1.6 GHz. The 2,110 mAh non-removable battery could last a day with average usage: surfing the internet, listening to music or watching videos in moderate use. Once the device is switched on, it gives a highly responsive and optimised touch experience.
The flat icons and clean layout of its user interface are easy on the eye. Whats Next is also a standout among the new features: Information, such as appointments and weather updates, are presented on the lock screen, home screen and in the notification drawer, making it easy to see what is going on at a glance.
The overall user interface is good and almost the same as any high-end mobile phone. Innovations such as PenTouch and GloveTouch technologies increase ZenFone 5s display sensitivity, making it possible to use the device with any stylus or even a gloved handso frustrations about how and when users can interact become a thing of the past.
ZenFone 5 has a fast, energy-efficient Intel Atom Z2580 processor running at 2 GHz and also benefits from a brilliant 8-megapixel PixelMaster main camera with image stabilisation. This couples a backside-illumination (BSI) sensor and wide-aperture f/2.0 lens with exclusive Asus PixelMaster technology to capture digital photographs that more than match those snapped by many dedicated digital cameras. Its 2-megapixel front camera takes sharp selfies too.
PixelMasters Low-Light Mode measures the available light and intelligently adjusts the pixel size to increase light sensitivity by up to 400% meaning ZenFone 5 snaps great low-lights shots and videos even without the built-in flash. The phone, which has an internal storage of 8G and a microSD card slot that can take up to 64 GB, also supports dual SIM cards.
Overall, the ZenFone 5 is a respectable budget smartphone worth considering. It is packed with interesting features and has the looks to go with it.
SPECIFICATIONS
* Display: 5-inch, 1280 x 720 IPS Panel
* Processor: Intel Atom Dual-Core Z2560 1.6GHz
* Operating system: Android JellyBean 4.3 (will update to 4.4 KitKat)
* SIM type: Dual Micro SIM card
* RAM: 2 GB RAM
* Storage: 16/8 GB
* Camera: 8 MP (rear); 2 MP (front)
w Battery: 2110 mAh
* Estimated street price: Rs 9,999 (8 GB)