Asus Fonepad 7 Dual SIM, a brilliant 7-inch tablet, is priced at Rs 12,999.
It is good to see Asus continually pushing the boundaries of mobile computing and introducing the latest technology to the marketplace. There are plenty of mobile phone-cum-tablets out there in the market, but products from this Taiwanese device maker are always a cut above the restgreat design, plenty of features and most important, an affordable price tag. Take for instance the Asus Fonepad 7 Dual SIM, a brilliant 7-inch tablet with a high definition 1280 x 800 IPS display and slots for two SIM cards. It carries an affordable price tag of R12,999.
Having used the device for the past few days, I feel that the Fonepad 7 Dual SIM is designed to keep your personal and professional life in the palm of your hand. Read on to find out. Out of the box, the new ASUS Fonepad 7 Dual SIM will impress you with its great display. It features a 1280 x 800 HD IPS display with an incredible 178-degree viewing angle so that you can share whats onscreen with those around you. Once the device is up and running, youll be amazed at textures and colours on the screen. The device is available in stylish gray and charming white.
Probing further, users can experience all the features they would expect from a dual-SIM mobile phone in a 7-inch tablet. For instance, its dynamic 10 point multi-touch feature lets you gain control over gaming, browsing and keyboard functions.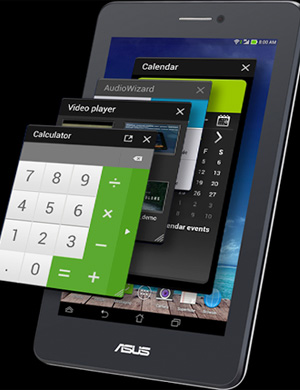 Intel Atom CPUs with HyperThreading technology for quad-threaded performance, will give you more processing power to run multiple apps simultaneously.
Users can shoot professional photos and videos with this Fonepads dual (front & rear) cameras. With its 100-shot burst mode, youll never miss a single moment. A user can also edit and organise all of the photos with the fluid Studio app. Crop and label photos and instantly share them with friends and family. It is as simple as that.
The Asus Fonepad 7 Dual SIM delivers high quality audio that brings entertainment to life. Your listening experience will never be the same again when you hear your favourite tracks through precise and powerful SonicMaster speakers. And with an astounding 30 hours of 3G talk time and 10 hours of video playback, Asus Fonepad 7 Dual SIM has enough juice to keep you going through the day. It also features a micro SD for up to an additional 64 GB of storage.
Let us talk about some of the interesting apps available on this version of the Fonepad. Its SuperNote app lets you read, type and scribble text. If thats not enough, you can insert photos or videos to create multimedia notes. Then, theres a Floating app which lets you instantly switch between apps without having to close the previous one. You can move seamlessly from surfing the web to email to gaming with just a swipe.
At the sub-Rs 15k price point, it will be hard to find an Android device that delivers similar performance.
Estimated street price: Rs 12,999