Knocking out Congress from its bastions, the Modi wave today placed BJP on the cusp of forming a government in Maharashtra with unexpected support from NCP while it stormed to power on its own in Haryana.
The assembly elections, seen as the first major test of Narendra Modi's popularity since the Lok Sabha success, reflected the continued dominance of BJP in the two states, where he mounted an aggressive campaign.
In Haryana, the party got a majority on its own for the first time winning 47 of the 90 seats, up from a meagre four in the last elections. Congress, which ruled the state for ten years, was reduced to 15 from 40 seats. INLD came second with 19 seats.
The BJP also put up a remarkable show in Maharashtra, where it junked its oldest ally Shiv Sena over seat sharing, by bagging 122 seats in the 288-member Assembly, 23 short of majority figure of 145. It had won 47 in the last elections.
Shiv Sena was left with 63 seats and could play no significant role with NCP (41 seats) offering unexpected and unconditional outside support to BJP to form the government.
The Congress, which headed the government, was reduced to 42 from 81 it had in the outgoing House. The MNS, headed by Raj Thackeray, was routed getting only one seat against 13 it had. Instead, the Hyderabad-based Muslim Majlis opened its account with two seats.
Sena chief Uddhav Thackeray hinted as much when he said he would not like to give unsolicited support because BJP may take the backing of NCP which was in power with the Congress for the last 15 years. NCP was described by Modi as Nationalist Corrupt Party as he had attacked its leaders Sharad Pawar and others as coming from the "same Congress clan".
The BJP Parliamentary Board met in the evening but ahead of it party chief Amit Shah made it clear that he was not averse to NCP support, virtually ignoring its 25 year old saffron partner Shiv Sena.
Modi, who attended the meeting, described BJP's victory in the two states as "historic" and said it was a matter of immense happiness and pride for the party.
Shah said the victory was the stamp of approval on the performance and policies of the Modi government and demonstrated that the Modi wave was not over as claimed by rivals on the basis of small by-elections victories recently.
The newly-elected BJP MLAs are expected to meet tomorrow to elect their chief ministers.
As speculation mounted as to whether the BJP will approach Sena, NCP leader Praful Patel announced outside support to it in government formation in the "interest" of stability and development of the state.
"NCP has decided to extend support to the proposed government of the BJP in Maharashtra... There is no option but to see that the largest party forms a stable government. Also the BJP is ruling in the Centre and it will benefit the state," Patel told reporters.
The BJP had contested 257 seats on its own and gave its symbol to 23 allied candidates. Its ally Rashtriya Samaj Paksha won a lone seat.
In the outgoing House, Shiv Sena had 45 seats. The Congress had 81 and the NCP 62.
To repeated questions at a press conference in Delhi, Amit Shah maintained that BJP had not broken the alliance with Shiv Sena.
Taking a dig at Sena with which the alliance broke over seat sharing, the BJP chief said, "The results have proved who was correct... We won more seats than we were being offered."
BJP wanted to contest 134 out of 288 seats but Shiv Sena was not ready to give more than 119.
"We respect our allies and want to keep our alliances but not by sacrificing our workers," Shah asserted.
Describing the electoral victory in Maharashtra and Haryana as "two more steps towards Congress-free India", he said the win is "a kind of stamp of approval by the people on the Modi government's work, its policies and initiatives in the last four months."
The performance of BJP has rendered Congress ineligible for even the post of Leader of Opposition in both the states, he said.
He said this victory has shown that "Modi is the undisputed leader of the country" and belies the theory of rivals that "Modi-wave is over" after minor bypoll setbacks.
"The results have proved that like a tsunami, the Modi-wave is demolishing all opposition," Shah said.
The Parliamentary Board decided to send two observers each to Maharashtra and Haryana to decide on who will be the chief ministers.
Home Minister Rajnath Singh and BJP's spokesperson J P Nadda will go as observers to Maharashtra. Whereas, Parliamentary Affairs Minister Venkaiah Naidu and BJP Vice President Dinesh Sharma will be sent to Haryana as the party's observers.
Briefing media after about two-hour long meeting, Nadda said a two-page resolution was passed by the board, crediting the victory to Modi's leadership and organisational skills of Amit Shah.
The board also expressed gratitude to voters of both the states, while accepting the mandate with "deep sense of humility", he said.
In the resolution, the board said the madate was clear approval of Modi's "credible" leadership and the policies of four months, which "took care of all sections of society".
The mandate showed the confidence of people in Modi's governance, Nadda said.
The board also took note of the fact that Congress has been reduced to third position in both the states due to its "mis-governance and corruption", Nadda said.
Here are updates on Assembly election results
* 8.55 pm: NCP leader Ajit Pawar wins from Baramati defeating his BJP rival Balasaheb Gawde by about 90,000 votes.
* 8.35 pm: Former Maharashtra BJP president Sudhir Mungantiwar defeated his nearest rival Ghanshyam Mulchandani of Congress from Ballarpur constituency by a margin of over 43,000 votes. While Mungantiwar polled 1,03,781 votes, Mulchandani got 60,118.
* 8.25 pm: In Chandrapur, the sitting MLA and the BJP candidate Nana Shamkule defeated Shiv Sena candidate Kishor Jorgewar by a margin of over 30,000 votes. Shamkule polled 81,483 votes while Jorgewar fetched 50,711 votes.
* 8.20 pm: Three-time sitting BJP MLA from Brahmapuri, Atul Deshkar was defeated by Vijay Wadettiwar of Congress by a margin of 13,610 votes. Wadettiwar polled 70,373 votes.
* 8.15 pm: The district witnessed close contests in Rajura and Warora constituencies as well.
* 8.13 pm: In Warora, BJP candidate Sanjay Deotale, who was a Cabinet Minister in the erstwhile Democratic Front government in the state and shifted to BJP just before elections, lost to Shiv Sena's Suresh alias Balu Dhanorkar by a slender margin of 2,004 votes.
* 8.10 pm: Prakash Surve of Shiv Sena won the Magathane seat defeating Hemendra Mehta of BJP. Surve got 65,016 votes while Mehta polled 44,631 votes.
* 8.00 pm: Former Mumbai Congress chief Kripashankar Singh loses from Kalina in Mumbai against Shiv Sena's Sanjay Potnis.
* 7.55 pm: Senior NCP leader and ex-Speaker Dilip Walse Patil has won from Ambegaon constituency by defeating his nearest rival Govindrao Gire of Shiv Sena by a margin of 58154 votes. He polled 120235 votes while Gire secured 62081 votes.
* 7.50 pm: Former Textile Minister Mohammed Arif Naseem Khan retained his Chandivali constituency polling 73,141 votes while his nearest rival Santosh Singh of Shiv Sena got 43,672 votes.
* 7.50 pm: EC censures MNS Chief Raj Thackeray for his reported remarks against non-Maharashtrians.
* 7.44 pm: Senior BJP leader and ex-state unit chief Sudhir Mungantiwar has won from Ballarpur constituency defeating Ghanshyam Mulchandani of Congress by a margin of 43600 votes. Mungantiwar polled 103718 votes against 60118 of his rival.
* 7.40 pm: Senior BJP leader and Leader of Opposition in outgoing Maharashtra Assembly, Eknath Khadse has retained his Muktainagar constituency by defeating Chandrakant Patil of Shiv Sena by a margin of 9708 votes. Khadse polled 85657 votes as against 75949 of Patil.
* 7.34 pm: Senior NCP leader and ex-Speaker Dilip Walse Patil has won from Ambegaon constituency by defeating his nearest rival Govindrao Gire of Shiv Sena by a margin of 58154 votes. He polled 120235 votes while Gire secured 62081 votes.
* 7.30 pm: The vote share of BJP in Maharashtra Assembly elections doubled compared to that in 2009 to help catapult its tally from 46 to 122 seats in a five-cornered contest and it was also marginally higher than it got in the May Lok Sabha polls.
* 7.27 pm: Shiv Sena chief Uddhav Thackeray calls Narendra Modi and Amit Shah to congratulate them on BJP's electoral victory.
* 7.20 pm: Historic results, a matter of immense happiness & pride for BJP, says Prime Minister Narendra Modi on poll victory.
* 7.15 pm: Devendra Fadnavis, state BJP chief, wins from Nagpur South West constituency, polling 1,13,918 votes and defeating Vinod Patil of Congress by a margin of 58,942 votes.
* 7.09 pm: Former Maharashtra Home Minister and senior NCP leader RR Patil retained his Tasgaon-Kavthe Mahankal seat in Sangli district of western Maharashtra by defeating the NCP rebel and BJP nominee Ajit Ghorpade by a margin of 22410 votes. Patil polled 1,08,310 votes against 85,900 of Ghorpade.
* 7.08 pm: I am sitting at my home peacefully, if somebody thinks our support is needed, they can approach us: Uddhav
* 7.05 pm: What if I approach them and they say no and tell me we already have NCP's support, says Uddhav.
* 7.03 pm: Former Maharashtra Agriculture Minister Radhakrishna Vikhe-Patil of Congress wins the Shirdi assembly seat in Ahmednagar district defeating Shiv Sena candidate Abhay Shelke by a margin 74,662 votes.
* 7.02 pm: Kehar Singh of INLD defeats Harsh Kumar of BJP by a margin of 6,372 votes from Hathin Assembly seat.
* 7.01 pm: BJP's Vandana Sharma, younger sister of External Affairs Minister Sushma Swaraj, loses to Jasbir Deswal, an Independent candidate, by a margin of 1,422 votes from Safidon seat.
* 7.00 pm: Karan Singh Dalal of Congress defeats Deepak Mangla of BJP by 5,642 votes from Palwal seat.
* 6.58 pm: BJP candidate Ghanshyam Saraf defeated INLD candidate Nirmla Saraf by 28,597 votes from Bhiwani seat.
* 6.55 pm: BJP candidate Captain Abhimanyu defeats Raj Singh Mor of INLD by 5,761 votes from Narnaund seat.
* 6.52 pm: Former Congress minister and sitting MLA Harshawardhan Patil loses to Dattatraya Bharne of NCP by a margin of about 14,000 votes in Indapur in Pune district.
* 6.50 pm: Have not received any proposal from BJP for Shiv Sena to join government: Uddhav.
* 6.35 pm: These are just possibilities at the moment, Uddhav on whether Shiv Sena will back BJP in forming government.
* 6.25 pm: BJP nominee Rajendra Waman Najardhane won the Umarkhed seat by 48,576 votes over his nearest rival Khadse Vijayrao Yadavrao of Congress.
* 6.15 pm: Sitting MLC Sandeep Bajoria of NCP was defeated by Shiv Sena candidate Santosh Davale by a close margin of 1,227 votes in Yavatmal. In Digras, sitting Shiv Sena MLA Sanjay Rathod retained the seat by defeating his nearest rival Vasant Ghuikhedkar of NCP by a big margin of 79,864 votes.
* 6.09 pm: In Pusad, NCP senior leader Manoharrao Naik won the seat by a comfortable margin of 65,359 votes over the nearest rival Shiv Sena's Prakash Patil Deosarkar.
* 6.05 pm: BJP also won the Ralegaon seat. Its candidate Ashok Wooike polled 1,00,618 votes and defeated nearest rival Congress's Vasant Purke by 38,750 votes.
* 6.00 pm: Among the prominent losers, former state minister Shivajirao Moghe was defeated by BJP's Raju Narayan Todsam by margin of 20,721 votes in Arni. Yavatmal district Congress committee president Wamanrao Kasawar lost the Wani seat in a close contest to BJP's Bodkurwar Sanjivreddi Bapurao. Bapurao polled 33,648 votes.
* 5.53 pm: Shiv Sena's Deepak Kesarkar won Sawantwadi seat in Nashik defeating BJP's Rajan Krishna Teli by a margin of 41,192 votes. He polled a total of 70,902 votes.
* 5.50 pm: Vijaykumar Gavit of BJP has won from Nandurbar constituency by 27,118 votes, securing 1,01,328 votes over nearest rival Vasave Kunal Batesingh of Congress.
* 5.45 pm: Final tally of the 90 member Haryana Assembly: Results Declared 90 - BJP wins 47, Congress 15, INLD 19
* 5.15 pm: 24 pc vote rise propels BJP to maiden victory in Haryana
* 5.10 pm: BJP for the first time gets majority in Haryana Assembly winning 46 seats in the 90-member House.
* 4.50 pm: BJP gets majority in Haryana, wins 46 out of 90 seats.
* 4.45 pm: Over 2,200 independents lost in Maharashtra, Haryana polls
* 4.37 pm: Hope parties will fulfill the promises made, says Sonia
* 4.35 pm: Accepts poll verdict with humility... will play a constructive role, says Congress president Sonia Gandhi
* 4.20 pm: From the victory it is clear that Narendra Modi has become the 'undisputed' leader of India, says Amit Shah
* 4.15 pm: We are the biggest party and we have the right to form the government in Maharashtra... It will be our government and our CM: BJP chief
* 4.12 pm: BJP got 33 per cent vote share in Haryana and 28 per cent in Maharashtra
* 4.10 pm: Like a tsunami, Modi wave continues to decimated opposition, says BJP chief Amit Shah on party's success in the Assembly polls in Maharashtra and Haryana
* 4.08 pm: I congratulate BJP on its win... We accept people's verdict and Congress will work hard on the ground to once again earn people's confidence, says Rahul Gandhi
* 4.06 pm: People have voted for change, says Congress vice president Rahul Gandhi
* 4.00 pm: BJP wrests all three seats from MNS in Nashik city
* 3.40 pm: NCP offers outside support to the BJP to form a government in Maharashtra in the interest of stability and development of the state.
* 3.30 pm: Despite PM Narendra Modi urging Baramati voters to vote for BJP to free Baramati of slavery of Pawars, Ajit Pawar wins with 1 lakh margin.
* 3.25 pm: Haryana CM Bhupinder Hooda to submit his resignation at 5 pm today.
* 3.00 pm: Gopal Goyal Kanda, President of Haryana Lokhit Party, loses his Sirsa seat and was defeated by Makhan Lal Singla of INLD by 2938 votes
* 2.48 pm: Haryana Chief Minister Bhupinder Singh Hooda defeats INLD's Satish Kumar Nandal by 47,185 votes from Garhi Sampla-Kiloi constituency in Rohtak district
* 2.15 pm: INLD leader Abhay Singh Chautala defeats Pawan Beniwal of BJP by 11,539 votes from Ellenabad constituency
* 2.02 pm: I take full responsibility for the disappointing performance of Congress in Maharashtra: Prithviraj Chavan
* 2 pm: Narendra Modi has done the damage: Prithviraj Chavan
* 1.22 pm: Results in 50 seats out in Haryana; BJP wins 25, Congress 11, INLD 10
* 1.15: INLD's Abhay Chautala says election verdict in Haraya a surprise
* 1 pm: MNS loses its stronghold in Dadar. Marathi manoos opts for Senas Sada Sarvankar.
* 12.45 pm: BJP leading in 51 seats in Haryana, INLD in 19 and Cong 12
* 12.40 pm: Haryana chief minister Bhupinder Singh Hooda concedes defeat
* 12.35 pm: Haryana BJP chief Ram Bilas Sharma wins after a string of defeats in previous elections. Remains in race for CM post.
* 12.30 pm: Ameeta, wife of Ashok Chavan takes decisive lead against Madhav Kinhalkar, who is fighting legal battle in 'paid news' case.
* 12.25 pm: Savitri Jindal loses by a narrow margin of votes.
* 12.20 pm: Shiv Sena leads in Solapur Central where Praniti Shinde daughter of Sushil Kumar Shinde is contesting.
* 12.15: Ajit Pawar leading by 36,500 votes in Baramati.
* 12.15 pm: Maharashtra: BJP leading in 115 seats, Shiv Sena 60, NCP 43, Congress 42
* 12 noon: Naxal affected Gadchiroli gives second preference to NOTA. Deorao Holi of BJP 32565 and NOTA 13932 at 11.50 am.
* 11.55 am: Out of 14 announced in Maharashtra, BJP bags six, Shiv Sena and Congress three each. In Haryana, BJP has won seven out of the 10 seats announced.
Prithviraj Chavan is now leading by 19,752 votes over Congress rebel Vilas Undalkar
* 11.50 am: BJP's Vijay Kale leads by 6251 votes in Shivajinagar assembly constituency against Vinayak Nimhan.
* 11 45 am: Maharashtra voting percentage as on 11.30 am (in %) BJP 26.6, SS 19.9, NCP 18.5, Cong 18.1 and NOTA 1.
* 11.40 am: NCP leader Chhagan Bhujbal wins from Yeola in Nashik district by defeating his nearest rival Sambhaji Pawar of Shiv Sena by 46,442 votes
* 11.30 am: Another Congress biggie prepares to bite the dust Kripashankar Singh trailing third in Kalina
* 11.28 am: Shiv Sena's Vaibhav Naik defeats senior Congress leader Narayan Rane in Kudal Assembly constituency of coastal Maharashtra
* 11.25 am: HARYANA Amit ShahKailash Vijayvargiya combination worked in Haryana. Both were the chief strategists for campaign. BJP leading in 50 out of 90 seats.
* 11.15 am: Prithviraj Chavan leads by 6000 votes at the end of 9th round over Undalkar.
* 11.10 am: The fact that BJP might not get past 145 starts sinking in. Senior BJP leaders are already suggesting that the party might have to woo Sena to form government. BJP state chief Devendra Fadnavis said: Sena is not our political opponent.
* 11.00 am: Narayan Rane trails in Kudal
* 10.58 am: BJP leadins with 106 seats in Maharashtra, followed by Shiv Sena, Congress and NCP at 54, 52, 48 respectively.
* 10.50 am: Haryana BJP legislature party leader and party candidate from Ambala Cantt defeats Nirmal Singh of Congress by a margin of 15,462 votes.
* 10.45 am: Haryana: BJP leading in 47, INLD in 22, Congress in 14 seats
10.40 am: BJP leading low in 108 seats in Maharash
10.20 am: Prithviraj Chavan leading by 4,00 votes from Karad, Maharashtra against Congress rebel Vilas Patil Undalkar
10.15 am: Haryana CM Bhupinder Singh Hooda was leading over Satish Nandal of the INLD by a margin of 3,523 votes from his Garhi Sampla-Kiloi constituency in Rohtak district
10.07 am: BPP leading in 46 seats in Haryana; INLD: 20, Congress: 15
10.00 am: BJP leading in more than 110 seats in Maharashtra; Shiv Sena in 56 seats and
09.55 am: Maharashtra results: Former allies Congress and NCP neck to neck in 49 and 48 seats respectively
9.45: BJP leading in 49 seats, heading for clear majority in Haryana
9.43 am: Congress heading for humiliating defeat in Haryana; leading only in 14 seats, behind BJP and INLD
9.40: BJP leading in 115 seats in Maharashtra
9.35 am: BJP leading in 46 seats in Haryana; Congress leading only in 14 seats, behind INLD's 18.
9.25 am: BJP emerges largest party in Maharashtra and Haryana; Congress staring at worst defeat
9.20 am: Senior INLD leader Abhay Singh Chautala trailing in his Ellenabad constituency from where Pawan Beniwal of BJP is leading by 494 votes.
09.30 am: BJP leading in 110 seats in Maharashtra
9.15 am: BJP leading in 89 seats; Shiv Sena in 55
* 9.05 am: BJP leading in more than 77 seats in Maharashtra; Shiv Sena in 40 seats
* 9.04 am: BJP leading in 35 seats in Haryana; Congress in 13 seats
* 9.00 am: BJP leading in more than 70 seats in Maharashtra
8.56 am: BJP leading in 68 seats in Maharashtra and 29 seats in Haryana
8.51 am: BJP leading in 65 seats in Maharashtra and 28 seats in Haryana
8.50 am: Shiv Sena leading in 30, Congress in 18 seats in Maharashtra; NCP leading in 20
* Prithviraj Chavan leading from Karad, Maharashtra. He's into a duel with Congress rebel Vilas Patil Undalkar
* BJP leading in 34 seats in Maharashtra and 21 seats in Haryana
* Shiv Sena leading in 14, Congress in 11 seats in Maharashtra; NCP leading in 4
* INLD leading in 5 seats in Haryana; Congress in 5 too
The results of the Maharashtra and Haryana Assembly elections will be a test of the political might of PM Narendra Modi, six months after Lok Sabha polls catapulted him to the centrestage of national politics.
Exit polls have projected that the BJP will emerge as the largest party in both Maharashtra and Haryana stopping short of majority.
Counting will be held across 288 counting centres at 269 locations in Maharashtra. Trends are expected to be available around noon and final results will begin pouring in around 3 pm.
Altogether, 63.13 per cent voters cast their vote in the Assembly polls. Polling was also held for the Beed Lok Sabha bypoll on October 15. Counting for it will also be taken up tomorrow.
BJP fielded 280, BSP 260, CPI 34, CPM 19, Congress 287, NCP 278, Shiv Sena 282 and MNS had fielded 219.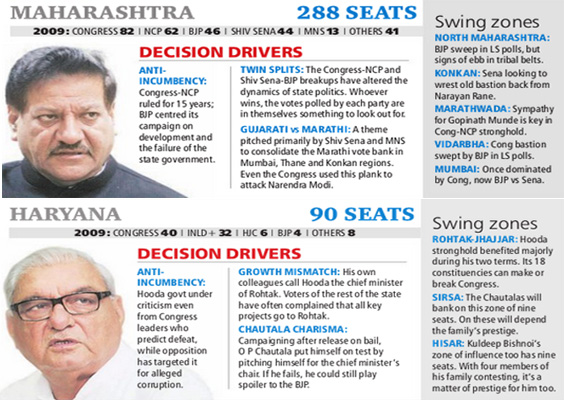 A total of 4119 candidates contested the poll. Of the 288 constituencies, including 36 constituencies in Mumbai, 234 are general, 29 reserved for scheduled castes and 25 for scheduled tribes.
In Haryana, the fate of the Bhupinder Singh Hooda-led Congress government, which is aiming at a third successive term, and BJP, which is eyeing to form a government on its own, would be known tomorrow.
The state had created history by clocking an all-time high polling of about 76.54 per cent, surpassing maximum of 72.65 per cent in 1967 in the high-stakes battle among top contenders Congress, BJP and INLD in a multi-cornered contest.
The fate of 1351 candidates, including 116 women the highest number since the formation of the state in 1966, was sealed during the single day polling.
Unlike in the recent past, when the fight was mainly between Congress and Indian National Lok Dal (INLD), a number of new players have thrown their hats in the ring this time.
The ruling Congress is eyeing a win for the third time in a row, mainly banking on the development card while main opposition INLD is seeking to return to power after a decade of hiatus, banking on the charisma of its President Om Prakash Chautala and consolidation of the Jat vote.
Haryana Chief Electoral Officer Shrikant Walgad said counting of votes for the Assembly polls will be held at 90 counting centers, set up at 57 places in the state.
"First of all counting of ballot papers would be carried out and the final results of elections are expected to come by late afternoon or evening," he said.
Trends would be available soon after counting starts at 8 am.
The key aspirants whose fate would be decided include top guns like Chief Minister Bhupinder Singh Hooda, Randeep Surjewala (Cong), former Chief Minister Om Parkash Chautala's son Abhay, daughter-in-law Naina and grandson Dushyant (INLD), former Union Minister Venod Sharma and his wife Shakti Rani (HJCP-V),former MP Kuldeep Bishnoi, his wife Renuka and elder brother former Deputy Chief Minister Chander Mohan (HJC-BL).
Other candidates in the fray include Haryana BJP President Ram Bilas Sharma and Abhimanyu (BJP), Arvind Sharma (BSP) and Gopal Kanda (HLP), who was booked in the Geetika Sharma suicide case.
Bansi Lal's son and former BCCI President Ranbir Singh Mahendra, daughter-in-law (late Surender Singh's wife) and Haryana Minister Kiran Chaudhary and Lal's son-in-law Sombir Singh are contesting as Congress candidates from Badhra, Tosham and Loharu segments in the Bhiwani district.
Walgad said candidates of Congress and BJP contested elections from all 90 Assembly constituencies of the state whereas 88 candidates of INLD, 87 of BSP, 65 of HJC, 17 of CPM, 14 of CPI and 297 of Registered Parties including two candidates of the SAD and 603 Independent Candidates also contested.
During the 2009 Assembly elections, Congress had won 40 seats, INLD 31, BJP four, HJC-BL six, SAD and BSP one each and Independents seven.
Congress had failed to get the required majority of 45 in the 2009 Assembly polls, but Bhupinder Singh Hooda managed to form the government after five Haryana Janhit Congress (BL) MLAs deserted their party and merged with the Congress, which also got the support of seven Independents and a lone BSP member.