In Parliament, one of the important roles of MPs is to hold the government to account for its actions and omissions. The first hour of each day is reserved for asking questions. During the next hour (zero hour), MPs bring to the governments attention matters of importance at both national and local levels; ministers have to respond to these issues within a stipulated time. Various committees also keep a check on the governments activities.
Questions are of two types: unstarred, which get written replies, and starred, which are orally answered in the House and may be followed up with supplementary questions. Every day, 20 starred questions are listed in each House. However, usually only five or six get answered due to lack of time. And often, even fewer get answered if the House is disrupted as MPs protest some issue. On average, about a sixth of all starred questions are answered. This year, another feature was highlighted on November 30, when question hour was curtailed after three questions as the relevant MPs were not present in the House.
Indeed, as many as a third of the questions that were called in the winter session of the Lok Sabha were not answered orally on account of absent MPs. The Rajya Sabha modified its rules to ensure that questions were answered even if MPs were not present. This rule would permit other MPs to ask supplementary questions.
It is interesting to see that participation of MPs in question hour varies widely: 26% of the MPs did not ask a single question and 20% asked between one and 10 questions; 14% made the 50 mark and a further 10% actually hit centuries.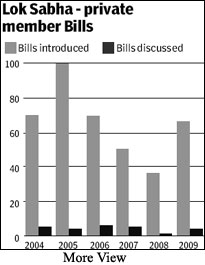 All MPs may not get an equal opportunity to speak in Parliament. In certain cases, such as Bills and debates on major issues, time is allocated on the basis of the partys strength in the House. The leader of each party then asks his MPs to speak. So an MP from a larger party has higher competition and may get fewer speaking opportunities. However, time is not allocated on party lines during zero hour, question hour and for private member Bills. With these caveats, we have collated data on MPs activity in Parliament in the 15th Lok Sabha till date. We find that 18% of MPs did not take part in a single debate, 37% spoke between one and three times, and 18% spoke at least 10 times in the Lok Sabha.
Parliament spends about 60% of its time discussing various issues of national importance. The topics this year included climate change, rising prices, internal security and Maoist violence, disinvestment policy, Indias stance at WTO, foreign policy issues, the Liberhan Commission report etc.
All financial expenditure and taxes of the government require parliamentary approval. Both the general and railway budgets are discussed in Parliament. Since the standing committees were formed in 1992, these committees have also examined the budget; so, Parliament spends less time discussing these on the floor of the House. However, the 2009 Budget was not examined by these committees as they had not been reconstituted after the elections. Parliament spent significantly lesser time discussing the budget compared to what it did in the first three decades of the republic.
Private member Bills are seldom passed. In all, 14 of these have been passed, with the last one in the 1970s. However, they help MPs point out gaps in the legal structure and aid in assessing House sentiment toward various issues. That said, very few private member Bills get discussed. Two interesting Bills were discussed in 2009. JP Agarwal introduced a Bill on compulsory voting that requires all eligible citizens to vote in elections held by the Election Commission; discussion on this Bill was not completed and will be continued next session. Mahendra Mohan introduced a Bill to amend the Constitution to ensure that Parliament meets for at least 120 days and state assemblies for 60 days every year. The parliamentary affairs minister said that it was not practical to implement this Bill and it was withdrawn on his request.
Our New Year wish is that Parliament functions effectively in 2010, and that measures such as those proposed by Mohan are not required.
(Concluded)
The author works with PRS Legislative Research, New Delhi