Hinduja group flagship and commercial vehicles (CV) major Ashok Leyland (ALL) on Tuesday said it has increased prices of its medium and heavy duty vehicles by about 3% with immediate effect. The price rise will be in the range of Rs 20,000 and Rs 50,000.
The move comes in the wake of hike in prices of raw material like steel, tyres, castings among other things, said the company in a release. It is also due to a sharp recovery in the commercial vehicles front over the last few months and its performance over the first two months of current financial year in particular.
Other commercial vehicle makers like Tata Motors and Eicher Motors have also expressed similar concerns and hinted at a possible price increase. Since January, the CV industry has grown over 40%, with Ashok Leyland starting off the current fiscal with a 271% growth in April. The growth is expected to continue for the next one more quarter, before settling down for a lower number in the third and fourth quarter, once the low base affect eases out.
There have been increases in input costs. We are evaluating the situation, Tata Motors spokesperson said. Input cost pressures are high due to increase in rubber and steel prices. Price increase is always an option to deal with this inflationary situation, Eicher Motors spokesperson said.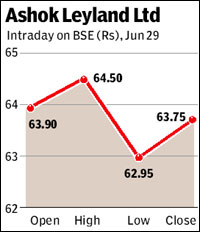 This is the third price increase by the makers in this calender year, around 2-3% per rise. Typically, CV makers increase vehicle prices by 5-11% on an average per year. A fourth rise is awaited in October when the CV industry moves up the emission norms grade from BS-II now to BS-III. Recently, Ravi Pisharody, president (commercial vehicles business unit), Tata Motors, said, We had deferred the emission related price increase in April, but with the industry upgrading from BS II now to BS III emission norms, the next price increase could be in October, but it will not be more than a percent.
For now, the shortage of radial tyres for the industry is seen a growing concern for the CV makers,who are directly looking at importing tyres or asking tyre makers to do so. Currently, tyre makers in the country are facing capacity constraint for radial tyres, leading to rise in imports. With the new radial tyre production expected to be added by the tyre makers starting July, imports are expected to come down and supply to smooth up a bit, said Vaishali Jajoo, an auto analyst from Angel Broking. She added that tyres contribute significantly to the CVs' overall raw material cost other than steel. Since January, steel prices have gone up by 5-8%, though they have shown some softening in the last two months. Steel prices have not seen a major softening and have started going up again, she said. Raw material cost makes up to 65% of the sales for the auto makers with steel a major contributor.