Call it the Punjab paradox. The state which is one of the biggest contributors of foodgrain to the central pool registered a negative 0.17% growth in 2009-10. Though the state can take respite from the fact that even the agriculture sector of the country recorded its lowest growth in five years 0.2% in 2009-10 due to widespread drought, the challenge now is meeting 2.4% growth in farm sector projected in the 11th Five Year Plan (2007-12).
As per latest estimates, the primary sectors contribution to Punjabs gross state domestic product (GSDP) stands at 30% (constant prices with 2004-05 base year), of which agriculture accounts for nearly 23% and allied activities such as dairy, forestry and poultry make up the remaining seven per cent. Within agriculture, 16 out of 23% is accounted by the three main crops of wheat, paddy and cotton.
The states farm growth was consistent in 2007-08 and 2008-09, at 3.8% and 3.3%, respectively. However, in 2009-10, the growth story went awry, first with high temperatures playing a spoilsport for wheat and later untimely rains for cotton.
Punjabs agriculture director BS Sidhu says Punjabs farm growth depends on two factors minimum support price and weather. Unlike states like Gujarat and Bihar, our base is already high. Our growth rate is decided by the value of output, which is more or less the output of our three main crops wheat, paddy and cotton multiplied by the MSPs. Since our land has achieved saturation as far as productivity is concerned, the only variable that changes it are weather conditions, he said.
And it was the not-so-good interplay of the two factors that resulted in negative farm growth rate in 2009-10. While the MSP for the three crops moved up sharply in the preceding years bringing over three per cent growth rate, in 2009-10, the hike was not as substantial. The rabi 2008-09 wheat yield was hit by high temperatures and the cotton crop suffered due to late rains in September. As for the kharif season, it saw a good yield of paddy, mainly due to a significant jump in area under basmati, despite poor rains. But the growth rate depends on improvement over base year, which did not happen last year, he adds.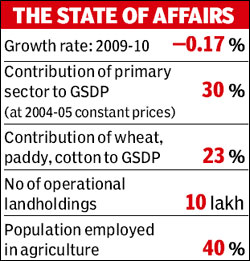 In 2009-10, though MSP for paddy was hiked by Rs 100, the hike in wheat MSP was Rs 80. In the years between 2003-04 and 2008-09 paddys MSP jumped from Rs 550 to 850 per quintal, that of cotton from Rs 1,725-1,925 to Rs 2,500-3,000 a quintal and wheat from Rs 640 in 2004-05 a quintal to Rs 1000 in 2008-09.
The department is hopeful of a positive turnaround this year (2010-11) to be able to achieve Planning Commissions 2.4% projected growth for the state during the 11th Five Year Plan. The cumulative rate of last three years, after factoring in negative growth of 2009-10, should be positive. In 2010-11, the cotton crop and prices both have been good and so was the rabi crop. The paddy output has not been as high but overall, we should be able to register positive growth this year and meet 2.4% growth in the year ending 2012, Sidhu says.
Notably, the national target for agriculture growth is 4% per annum in the 11th Five-Year Plan (2007-12). But Punjab Farmers Commission, which advises state government on farm policies, says only technology or massive diversification can take Punjabs farm sector to the next level of growth. As of now, Punjabs farm growth hinges on prices of its three main crops and their output.
Already our farmers are getting 85 to 90% of the potential yield from available seed varieties of these crops. Where is the scope for more after such saturation Its only when either technology brings some breakthrough in terms of higher-yielding seeds or we diversify to horticulture in a big way that growth figures will move up. There is immense scope in allied activities, particularly dairy, says Punjab Farmers Commission, advisor, PS Rangi.
And for a better growth rate, diversification, he says, should come not just in agriculture but also states economy. Of the over 10 lakh operational landholdings in Punjab, 32% belong to farmers who own less than five acres of land. Contrast this with the US where just two per cent of population is dependent on agriculture but has huge landholdings.
So Punjabs farm hands should move towards manufacturing and service sectors. Though the shift is slowly happening, from 65% in 1960s, total workforce in the farm sector in Punjab has slipped to 40%, its still more than the share of the sector to the states GSDP, says Rangi.