For decades, sugar in Maharashtra has been synonymous with cooperatives. Not anymore. And the trend of their marginalisation is unlikely to be reversed under the new BJP-led government for, the list of the new private sugar barons includes politicians from all parties.
The sugar year ended September saw 64 private factories crush and produce 22.37 lakh tonnes (lt), or 28.8 per cent of the state's output.
Compare this to just three in 1998-99 the Doshi familys Ravalgaon Sugar Farm, New Phaltan Sugar Works of the Aptes, and the Akluj (Solapur)-based Saswad Mali Sugar Factory with a combined production of 1.23 lt or 2.3 per cent of Maharashtras sugar.
The numbers werent very different even in 2004-05: 19 factories, 1.77 lt production, and 8 per cent share.
Private mills have really come up in the last 5-6 years under the Congress-NCP rule. Today, they produce nearly 30 per cent, and cooperatives 70 per cent. This ratio could even be reversed to 70:30 in the next 4-5 years, said Raju Shetti, farmer leader and the Swabhimani Paksha Lok Sabha MP from Hatkanangle.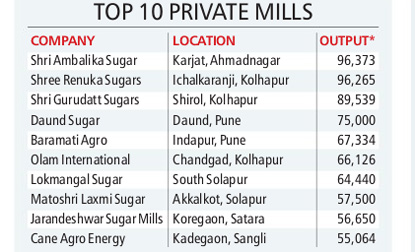 B B Thombare, general secretary of the West Indian Sugar Mills Association, projected the private share in Maharashtra to touch 40 per cent in the new 2014-15 sugar year, and 55 per cent in the next 3-4 years.
By then, only 15-20 cooperatives will remain (against the 93 that crushed in 2013-14 and 135 in 2007-08). Only the better managed ones will survive, he said.
Thombare was managing director of two cooperatives the late Vilasrao Deshmukhs Manjara Shetkari Mill in Latur, and the Vaidyanath Factory founded by the late Gopinath Munde at Parli (Beed) before promoting Natural Sugar & Allied Industries.
His companys mill at Kallam (Osmanabad) was the first private unit commissioned in 1999-2000 after the Centre de-licensed the sugar industry in August 2008.
LOSS OF FAVOUR
De-licencing ended the preference given to cooperatives in establishing mills. Anyone could now set up a factory at a distance of 15 km or more from an existing one.
De-licensing apart, the state government withdrawing support for starting cooperative mills has also been a reason for new factories being largely in the private sector, said Madhavrao Ghatge, chairman of Shri Gurudatt Sugars at Shirol, Kolhapur.
The Maharashtra government previously contributed up to three-fourths of the share capital of any cooperative mill, typically funded through 40 per cent equity and 60 per cent debt. It also gave guarantees for loans raised from financial institutions. Farmer-members, therefore, had to chip in with only a tenth of the project cost, with redemption of both government equity (at face value) and debt done by deducting a portion of the cane price payable over time.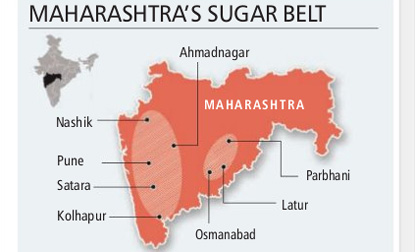 Such assistance stopped after 2002-03 when a combination of drought and a crash in sugar prices led to loan defaults by mills, and the institutions invoked the government guarantees.
The ensuing financial burden made the government reluctant to support the starting of new factories, said M G Joshi, managing director of the National Federation of Cooperative Sugar Factories.
Also, beginning 2007-08, the Maharashtra State Cooperative Bank started to attach the assets of defaulting mills, and auction them to private buyers. The state government allowed this to enable recovery of dues of over Rs 1,100 crore. Some 26 cooperatives have been sold so far, giving a further fillip to privatisation via acquisition as against establishing greenfield projects.
NEW-OLD BARONS
Maharashtras private sugar promoters can be put into three broad categories.
First, homegrown professional entrepreneurs like Thombare and Ghatge. Second, corporates such as Olam International, Shree Renuka Sugars and Dalmia Bharat (whose factory near Kolhapur, earlier a cooperative, has Indias highest sugar recovery of 13.7 per cent).
The majority of private barons, however, are politicians.
The BJPs Subhash Deshmukh, who on Sunday won the Solapur South assembly seat, heads the Lokmangal Group, which controls three mills that had a combined output of 1.43 lt in 2013-14.
But probably even bigger are three companies with common directors said to be linked to former deputy chief minister and NCP leader Ajit Pawar: Shri Ambalika Sugar, Daund Sugar and Jarandeshwar Sugar Mills. Together, they produced 2.28 lt [See table].
Ajit Pawars cousin, Rajendra, is chairman of Baramati Agro, which had a production of 86,891 tonnes from two mills at Indapur (Pune) and Kannad (Aurangabad). Both Ajit and Rajendra are nephews of NCP president Sharad Pawar.
Other important politician-sugar entrepreneurs include union Transport Minister Nitin Gadkari (three factories; 61,933 tonnes), senior Maharashtra BJP leader Vinod Tawde (Shreenath Mhaskoba Mill at Daund, Pune; 41,155 tonnes), former Maharashtra rural development minister Siddharam Mhetre of the Congress (Matoshri Laxmi Sugar at Akkalkot, Solapur; 57,500 tonnes), Pruthviraj Deshmukh, the BJP candidate from Palus-Kadegaon who lost to the Congresss Patangrao Kadam on Sunday (Cane Agro Energy at Kadegaon, Sangli; 55,064 tonnes), and the NCPs Babasaheb Mohanrao Patil, who was edged out by the Independent candidate Vinayakrao Jadhav Patil at the Ahmadpur assembly seat on Sunday (Siddhi Sugar at Ujana, Latur; 53,735 tonnes).
It is not just the main parties. Ratnakar Manikrao Gutte, chairman of Gangakhed Sugar & Energy near Parbhani (54,950 tonnes), was fielded by the Rashtriya Samaj Paksha, a BJP alliance partner in Gangakhed, and lost in a close contest with the NCP candidate.
The ranks of private millers also include the siblings or close relatives of established cooperative magnates. So, Vilasrao Deshmukhs younger brother, Diliprao, controls Jagruti Sugar & Allied Industries at Deoni, Latur.
Babanrao Shinde, who heads the Vitthalrao Shinde Cooperative Factory at Madha (Solapur), won the Madha seat for the NCP on Sunday. And his brother, Sanjay, has his own Vitthal Corporation Mill.
Former forest minister Patangrao Kadam of the Congress, who defeated the BJPs Pruthviraj Deshmukh to win the Palus-Kadegaon assembly seat on Sunday, is the founder of the Sonhira Cooperative at Kadegaon in Sangli. Kadams brother, Mohanrao, runs Udgiri Sugar & Power.
SOME HICCUPS
But not all private mills are doing well. The factory of Shri Saikrupa Sugar at Shrigonda (Ahmednagar), belonging to former tribal affairs minister Babanrao Pachpute of the NCP, crushed no cane in 2013-14. Pachpute jumped ship to the BJP before the elections, but lost in Shrigonda to the NCPs Kundlikrao Jagtap.
Also, Maharashtras private factories are relatively small. The biggest ones production (Shri Ambalika; 96,373 tonnes) was way below the 1,79,543 tonnes of the largest cooperative (Jawahar Shetkari at Hatkanangle, Kolhapur). They are even smaller vis--vis their Uttar Pradesh counterparts: Bajaj Hindusthan and Balrampur Chini produce 10-15 lt annually.
But there is no doubt they are there to stay and grow. The Maharashtra election results will not change that.