A limping stock market, corruption cases involving leading corporates and policy paralysis have taken the sheen off the countrys Rich List as unveiled by the latest Forbes India ranking of the countrys wealthiest people.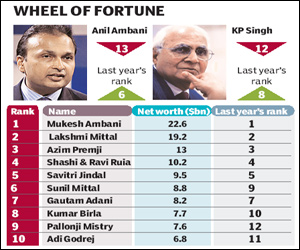 Overall, the richest promoters have also been brought down several notches with their wealth declining 20% over last year. The combined wealth of Indias richest 100 fell to $241 billion in 2011. Also, the Rich List has 57 dollar billionaires this year, a dozen less than a year ago. Not surprisingly, there have been casualties among the erstwhile members of the club comprising mainly real estate and natural resources billionaires.
So, for instance, Reliance Industries chairman Mukesh Ambani retains his No. 1 position, but his net worth at $22.6 billion is $4.4 billion less than last year. Fortune, though, was harsher on younger brother Anil, who saw his wealth eroding by over half $5.9 billion this year, from last years $13.3 billion. Consequently, for the first time, Anil is out of the top 10. His rank this year is No. 13, against last years No. 6. Apart from the debt burden faced by flagship Reliance Communications, a group company has got embroiled in the spectrum scam, leading to his group companies losing heavily on the stock market.
Anil cant take solace in sectoral trouble because telecom rival Sunil Mittal of Bharti Enterprises moved up to No. 6 from last years No. 9, with his net worth rising to $8.8 billion from lat years $8.6 billion. Other fellow industrialists like Kumar Mangalam Birla, Gautam Adani and brothers Shashi and Ravi Ruia of the Essar Group have either retained or bettered their position within the top 10 though they are present in similar sectors as Anils companies.
KP Singh, promoter of Indias largest real estate firm DLF, shared Anils fate his position slipped to No. 12 from last years No. 8 as his net worth fell to $6.5 billion from last years $9.2 billion.
The spectrum scam took its heaviest toll on DB Realtys Vinod Goenka and Shahid Balwa, who are no longer in top 100 list. DB Realty-led Swan Telecom has been accused of several breaches in the spectrum scam.
The role of policy either paralysis or arbitrage is clear in swinging the fortunes of the rich. This is evident from the fact that the biggest gainer in percentage terms was Brijmohan Lall Munjal, head of Hero MotoCorp, whose net worth rose to $2.7 billion in the year his firm ended a 26-year partnership with Japans Honda Motor. The auto sector hardly gets affected by policy measures today.
For women, it is still lonely at the top of the affluence pyramid, with only one figuring in the top 10, and five making it to the top 100. Savitri Jindal, chairperson of the Jindal group of companies (which includes Jindal Steel and Power, JSW Steel and others) retains her position as India's richest woman, at No.5 on the list with a net worth of $9.5 billion. Among the other four, two are media baronesses (Indu Jain of Bennett Coleman and Shobhana Bhartia of HT Media) one hails from the biotech sector, (Kiran Mazumdar Shaw of Biocon ) while the other heads an energy and environment engineering firm (Anu Aga of Thermax).
At least 45% of the top 100 rich individuals are under 60. This is in stark contrast to the profile of the Union Cabinet, in which the majority of the important portfolios are held by ministers over 70.
Not surprisingly, metros host the majority of India's wealthy. While around 38% are from the financial capital Mumbai, political capital New Delhi hosts slightly over 20 rich people. Bangalore is home to 13 of the top 100 rich Indians and Ahmedabad, to five of them. Chennai, Kolakata and Hyderabad have around four of top 100 rich men each. A similar number live abroad. Only one Ramesh Agarwal of media group DB Corp has roots in a tier I city, in Bhopal. Smaller centres are conspicuous by their absence from the list.
Debutants on the annual list include Kapil Bhatia and his son Rahul, founders of budget airline IndiGo, and VG Siddhartha, whose coffee shop chain Cafe Coffee Day gave him a net worth of $595 million.
Delhi-based consultant Ajay Dua said that owing to the drop in optimism levels about the robustness of the Indian economy compared to a year back, the net worth of some of the noted industrialists have taken a beating. The net worth also takes into account the perception people have of him or her in the longer run. If people feel the future is uncertain, it hits the company's stocks, bringing the total value of the individual down," he said.