After the first round of hikes in deposit rates by three banks, Kotak Mahindra Bank, Allahabad Bank and South Indian Bank also raised their deposit rates on Friday Three others, Union Bank of India, Bank of India and Axis Bank, are expected to follow suit.
New generation private sector lender, Kotak Mahindra Bank, raised its term deposit rates by 25-75 basis points across various maturities ranging from 7-14 days to 391-699 days with effect from August 1. Senior citizens enjoy across additional 25 basis points across all maturities. Bank of Baroda increased deposit rates by 25-50 basis points for all maturities above 90 days with effect from August 2.
Similarly, public sector lender Allahabad Bank and South Indian Bank (SIB) too raised deposit rates. While the former revised fixed deposit rates across various maturities by up to 50 basis points effective August 2, the latter hiked term deposits rate by 25-50 basis points for different maturities between 46-90 days years and 5 years and above.
Last Wednesday, three banks, including HDFC Bank, Central Bank and Laxmi Vilas Bank had announced an increase in deposit rates. State Bank of India (SBI) chairman OP Bhatt also hinted about raising deposit rates saying interest rates must start rising from August-September and that they should begin on the deposit side with a rise of at least 25 basis points.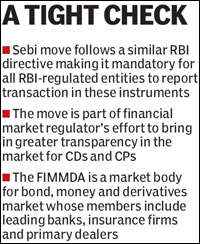 RBI had, on Tuesday, raised the repo rate by 25 basis points and reverse repo rate by 50 basis points. The central bank, in its policy review, pointed out that money supply growth moderated from 16.8% at end-March 2010 to 15.3% as on July 2, 2010, reflecting a slowdown in the growth in bank deposits.
Time deposits in the system have decelerated, mainly because of withdrawals by public sector undertakings and mutual funds. RBI data shows banks deposits recorded a 14.55% y-o-y growth to Rs 45.91 lakh crore for the fortnight ended July 16, 2010 though deposits, de-grew by Rs 40,868 crore, compared to the fortnight ended July 2, 2010.
In an interview with FE, Subir Gokarn, deputy governor, RBI said, Until June, there was excess liquidity. Because of this, banks had no incentive to mobilise more deposits because they had enough of a cushion. Also, there have been withdrawals of bulk deposits by PSUs, but that process is coming to an end and a combination of liquidity constraints and accelerating credit growth will give banks an incentive to mobilise deposits.