Alembic on Tuesday said its board has approved the demerger of the companys pharmaceuticals business into a wholly owned subsidiary, Alembic Pharma, with effect from April 1. This will help the company unlock value in the pharma and realty businesses, throwing them open to financial and strategic investors.
The new entity will subsequently be listed on the stock exchanges.
Alembic Pharma will comprise generics, domestic formulations and international active pharmaceutical ingredients (API) business. On the other hand, Alembic will include the Vadodara undertaking (manufacturing and marketing of fermentation and chemistry-based APIs, R&D), power and real estate assets. Power assets include three captive co-generation power plants and four wind mills of 11 MW and 5 MW, respectively. In realty, the company holds land assets in Vadodara. Chirayu Amin, Alembic chairman, is also chairman of the Indian Premier League (IPL).
With the move, existing shareholders of Alembic will receive additional shares in Alembic Pharma in the ratio of 1:1. This means shareholders will get one equity share having face value of Rs 2 each in the new company, for every one share of face value of Rs 2 they hold in Alembic. This will be in addition to the equity shares already held by the shareholders in Alembic.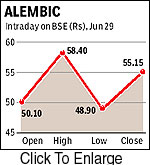 Before re-organisation, Alembic had revenues of Rs 1,142.44 crore in FY2009-10, and a profit before tax of Rs 43.81 crore. The company had a total debt of Rs 408 crore. Post re-organisation, Alembic shows FY2009-10 revenues of Rs 114.96 crore, whereas Alembic Pharma shows revenues of Rs 1,027.48 crore for the period. A major chunk of debt will now reflect in Alembic Pharma, at Rs 339.25 crore, while Alembic will have a debt of Rs 69.12 crore.
The demerger, the company said, is subject to the necessary approvals from shareholders, exchanges and the high court. The entire process is likely to take about 7-9 months, the company said.
RK Baheti, director finance Alembic said the main objective was to create true, independent value for investors. The demerger will equip the company emerge as a core pharma player. This re-organisation exercise will help unlock shareholder value and also insulate core pharma operations from severe volatility and uncertainty of the penicillin-G business at the Vadodara manufacturing facility.
Sujay Shetty, associate director for pharma and life sciences at PricewaterhouseCoopers, said the move cannot be compared with that of Piramal Healthcare or Dr Reddys Labs where the companies have carved out separate subsidiaries in research, for instance, from their main pharma business.
The move is more comparable to that of Torrent, which has kept its pharma business separate from the power venture, he said, adding that unbundling of operations will accord more management focus for the different businesses. This will ensure growth as well as become more attractive to investors.
Alembic clarified that interest of public shareholders is being retained at 36.52% in Alembic Pharma (i.e. the current level) by 25.86% fresh shares allotted and 10.66% through Alembic.