The demand for office space has lost momentum after seven consecutive quarters of fairly good growth.
While vacant office spaces in Mumbai have reached alarming levels, in cities like Pune and Chennai the situation remains worrisome. For instance, Indiabulls Finance Centre in Lower Parel in central Mumbai now commands rents of R115 per sq ft per month versus R140per sq ft per month a year back. Overall vacancy levels in the city are high at 20% in the March 2011 quarter. Another 30 million sq ft of office space is under construction to be completed in the next 3-4 years, which could result in vacancies remaining stagnant at best. Mumbai, it seems to us, is the worst-placed city for office space developers at present, says a Nomura Securities report.
Says LS Vaidynathan, ED, Nitesh Estates: Rentals in Bangalore are down from levels of R50-55 per sq ft per month in 2007 to around R 40-42 per sq ft per month currently. Berinder Sahni, associate director (investment services) Colliers International says, The requirement for bigger office spaces is coming down compared to the last 7-8 quarters since the outlook for growth isnt as promising as it was a couple of years back. Businesses are more rational in their approach, aware that business cycles are crashing from 7 or 8 years earlier to about three years now. As such, they are reluctant to commit too much capital.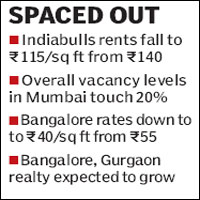 Adds Kaustuv Roy, executive director, Cushman and Wakefield: With corporates still planning their expansion, the offtake for office space has probably dipped a tad in the March quarter but demand should pick up going ahead. Roy says in the last two to three years, it was mainly the IT and the banking segments that generated demand.
The banking and finance sector has finished most of its relocation in the last two years and going forward, this sector will generate a smaller quantum of space requirement unless there are new entrants, Roy adds.
Samantak Das, national head, research, Knight Frank observes that the Mumbai commercial office space market,which was recovering from its 2008 lows, has lost some momentum in the last two quarters. Demand was muted as corporates stayed away. Das adds that rentals will stay stagnant in the office market and are unlikely to fall further. Adds Colliers Sahni: Lease rentals cooling down are a combination of businesses not looking for very large spaces and also fresh supply.
Market watchers point out that while Bangalore and Gurgaon are well-placed to see higher rents in the near term, Mumbai could actually see a fall rents this year. In other cities such as Chennai, Hyderabad, Pune and Kolkata, vacancy levels are too high for rents to show any meaningful increase, the Nomura report observes. While hiring in IT and ITES remains strong, it is the slowdown in the non-IT industries, where investment has been sluggish, that could possibly lead to reduced demand for office space this year. Supply of space in the three months to March has been the lowest in the past three years, according to the report by Nomura, which says it will remain low as developers are currently facing a cash crunch and could be forced to go slow on commercial space construction.