Air carriers are planning to add 30% more aircraft to its existing fleet in the next three years. The move suggests a sustained recovery in the air travel market when compared to the last fiscal.
In FY10, airlines had deferred its fleet expansion plan owing to a dip in air traffic.
According to a recent Centre for Asia Pacific Aviation (CAPA) report, airlines in the country will soon start ordering aircraft for fleet expansion. The report states that IndiGo is set to acquire up to 150 aircraft, SpiceJet will buy 47 planes and AI is planning to lease 10 A330s as well as A320s and ATRs.
At present, including scheduled and non-scheduled ones, there are around 500 aircraft in the Indian skies.
The aviation sector has registered a 22% growth in traffic during the first half of 2010, on the back of an economic recovery, as against a sluggish 7% growth last year. In the past, financing was a problem for airlines as majority of them were operating in the red. However, this fiscal airlines are recovering if the first quarter results are any indicators.
Among listed carriers, Jet Airways posted Rs 3.5 crore profit for the first quarter ended June 30, 2010, as against Rs 225 crore loss in the year-ago period. Similarly, SpiceJet registered a net profit of Rs 55 crore compared to Rs 26 crore in the same period previous year. Kingfisher was able to bring down its losses to Rs 187 crore in Q1 from Rs 237 crore in the corresponding period last year.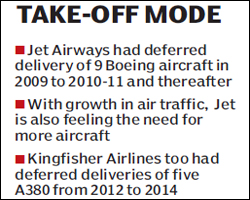 In India, aircraft manufacturers Boeing and Airbus are pushing sales. Both offer credit financing depending on the financial standing, Arvind Mahajan, executive director, KPMG Advisory Services said. Private carriers like Jet are showing improvement in their performance and are in the black, hence, aircraft financing would not be a concern, he added.
Another analyst said, in 2008-09, banks had exited the aircraft financing business entirely, leaving a big void in the segment. There have been instances of airlines not being able to honour their purchase contracts and forfeiting significant deposits on aircraft because they could not get finance, an analyst said.
AI had deferred the delivery of three long-haul Boeing 777 aircraft from 2010 to beyond 2012 as it wanted to reduce capacity that time is now all set to increase its fleet size. The airline has plans to induct as many as 275 planes in five years from the current 148.
Air India CMD Arvind Jadhav said, Last year, the market was in a shrinking mode, but now it is on a growth trajectory. The carrier, which is consistently looking at ways to improve efficiency, is keen on opening up more routes on its network.