After nearly two years, airlines in the country are hiring as the momentum in business and economy class travel picks up. Besides, the sector is witnessing a revival with airlines exploring newer routes.
HR consultants say that placements in the sector have risen 40% compared with 2007-08 onwards, when recrutiment was frozen.
Ruby Arya, HR head, Kingfisher Airlines, said: We have started recruitment in a few categories like ground-handling and in-flight staff. For the last two years, there was no recruitment in the aviation industry, as air travel occupancies had dipped.
Kingfisher announced its entry into Oneworld, an alliance of international carriers, to expand its international presence. Jet Airways, which also plans to expand, will need staff to match up to growth, say HR consultants.
Ashish Arora, MD, HR Anexi, expects 40% jump in hiring in the sector. There is a revival in the sector and airlines have started recruiting big time. Full service carriers like Jet and Kingfisher have over 10,000 employees each.
There were times when the airline industry, like other sectors, was adversely affected by the general economic slowdown. This, coupled with weak Indian rupee and high fuel cost, had significantly impacted the performance and cash flows, resulting in erosion of net worth.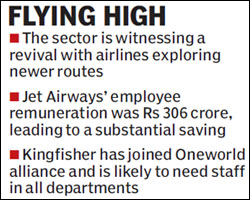 To grapple with tough times, airlines were consistently bringing down their employee cost by either downsizing staff or keeping recruitment on hold.
Simultaneously, airline operators were continuously implementing initiatives directed toward improving operating profits through cost control, route rationalisation, leasing out aircraft and evaluating options to raise finance.