The Centre has delayed the decision to impose 12% service tax on economy class fares from April 1, as proposed in the Budget 2010-11. Airline operators say a fare hike, if it comes along, could be effective only from June 1, as per government orders.
Currently, service tax is levied on only business class fares. Domestic airlines are expected to raise economy class fares by Rs 400-480 per ticket if the imposition of service tax on the base fare becomes applicable from June 1.
However, airlines have requested the aviation ministry for a roll back of service tax.
Says an official from MakeMyTrip.com: "Currently, low fares are available only in the advance purchase scheme for most of the airlines. If a passenger books his travel a month in advance, he has to pay Rs 2,600 (all inclusive) on the Mumbai-Delhi sector, but if he books a seat at the last minute, the fare could be over Rs 5,000." He further said that airlines are doing well in terms of load factors for the past six months and are more focussed on increasing capacity rather than fares. Full-service carriers like Jet Airways, Kingfisher Airlines and even Air India will absorb the increase in ATF prices by not passing it on to consumers.
Simultaneously, despite the cost of aviation turbine fuel (ATF) being hiked for the third time in a row, airlines are in no mood to hike air fares. Travel agents say that compared to last year's summer season, fares have peaked by over 32% and airlines will not pass on the burden to travellers even in the upcoming summer season. However, there might be a slight upward movement in fares but not to a noticeable limit.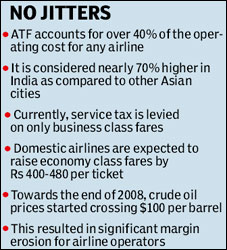 A Jet Airways spokesperson said that the airline will not hike fares as of now. Also, there is no news of fare hikes from rivals Kingfisher and Air India too. Even low-cost carriers like SpiceJet and Indigo have not announced a fare revision, despite the holiday season being around the corner.
Towards the end of 2008, crude oil prices crossed $100 per barrel, resulting in significant margin erosion for airline operators. As a result, airlines were forced to raise ticket prices, leading to lower air traffic. Later, despite crude oil prices declining to $58 per barrel in the first half of 2009, travel growth continued to remain under pressure due to the global economic slowdown. The sector's woes were further aggravated by the load factor falling to 63.7% in FY09. Due to all this, airline companies are reluctant to hike their fares despite a rise in ATF prices. Currently, ATF costs Rs 41,660 per kilolitre in Mumbai while it costs Rs 40,2841 per kilolitre in Delhi. ATF accounts for over 40% of the operating cost to any airline and is considered nearly 70% higher in India as compared to other Asian cities like Dubai and Kuala Lumpur.
A recent report by ICICI Direct notes that the airline sector has witnessed a significant upturn in the December quarter, with domestic traffic registering a 28% growth on a year-on-year basis. The report further states that growth in the sector is driven by optimism about the future, market share gains by low-fare carriers (LFC) and stable crude oil prices. LFCs are likely to benefit from the moderate growth of crude oil prices in the ensuing financial year. Crude oil has currently averaged at around $76.9 per barrel.
"The Indian airline sector is witnessing a significant change in its operational structure with major full-service carriers such as Jet Airways and Kingfisher rapidly converting a majority of their capacities into low-cost. The passenger preference has also tilted towards LFCs primarily due to the economic slowdown and high fuel prices in the past few quarters," states the ICICI Direct report.
Another report from Citigroup Financial states that analysis of passenger movement over the last year and a half indicates that the air travel recovery is broad-based across most metros, Tier I and Tier II cities. The report also states that in the past fee months, airlines have been able to pass on the increase in costs to passengers. According to the data available with the Directorate General of Civil Aviation, passenger traffic has surged 19% wherein all domestic carriers carried 80.56 lakh passengers in Jan-Feb 2010, as against 67.61 lakh passengers in the same period a year ago.