In the shadow of the monsoon deficit, the Union agriculture ministry has drafted a contingency plan for states that have received scanty rainfall, focussing on alternative or short-duration crops.
The Indian Council for Agricultural Research (ICAR) blueprint includes a shift, wherever possible, to alternative crops like bajra, groundnut, pigeon peas from water-intensive maize, cotton and paddy. State-specific plans have been prepared for parts of Karnataka, Maharashtra, Rajasthan, Gujarat, Bihar, Gujarat and Haryana, sources said.
However, the plan doesnt include any change in cropping pattern for the key paddy-growing states of Andhra Pradesh, Chhattisgarh, Jharkhand, West Bengal and Orissa, where monsoon rainfall has been adequate so far.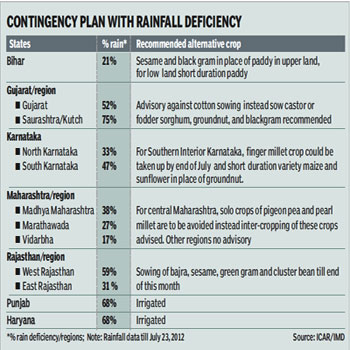 In Bihar where rainfall has been scattered and 21% deficient till now, upland farmers have been advised to sow sesame and black gram in place of paddy while in low-land areas, short-duration paddy has been recommended.
For eastern Rajasthan which received adequate rainfall in the last one week, maize sowing is in progress and for areas which did not receive adequate rains, the contingency plan has suggested alternate crop such as bajra, sesame, green gram and cluster beans till the end of this month.
In its advisory for Saurashtra and Kutch regions of Gujarat which have received less rainfall than normal, ICAR has advised farmers against cotton-sowing; instead 'farmers may sow castor or fodder sorghum, groundnut and black gram.
With the exception of a few districts, Vidarbha and Marathwada regions of Maharashtra have largely got adequate rains and a normal cropping pattern is suggested. For central Maharashtra which got deficient rainfall of 38% till now, solo crops of pigeon pea and pearl millet are to be avoided in view of the delay in onset of rainfall,. Instead, farmers are advised inter-cropping of these crops.
For the rainfall deficient (47%) southern interior Karnataka, sowing of main finger millet crop could be taken up by end of July and farmers are advised to sow short duration variety maize and sunflower in place of groundnut.
The focus of our contingency plan is to help farmers in growing alternate crops which require less rains and help reduce pulses, coarse cereals and oilseeds production loss, S Ayyappan, director-general, ICAR told FE.
Pulses, coarse cereals and oilseeds have been sown only in 4 million hectares, 9.5 million hectares and 10.8 million hectares respectively till now, against normal sowing of 5.8 mh, 12.6 mh and 12.1 mh reported during a normal monsoon year.
For the hugely rain-deficient Punjab and Haryana (68% each), the contingency plan does not have specific recommendations as most areas in these states are irrigated.
Meanwhile, the India Meteorological Department (IMD) on Monday predicted formation of fresh upper air cyclonic circulation over the north-west Bay of Bengal around July 26 which would lead to heavy rainfall over Orissa and north and coastal Andhra Pradesh,Chhattisgarh, Telangana, Vidarbha, Madhya Pradesh and coastal Karnataka.
Besides, during next the few days, IMD has predicted heavy rainfall over Gujarat, Madhya Pradesh, Konkan and Goa, coastal Karnataka, Assam, Meghalaya and Arunachal Pradesh. Rajasthan and central Maharashtra.
Cumulative rainfall across the country had been deficient by 22%. Against a normal rainfall of 366 mili-meter during June-July 22, the country has received only 286 mm till now.