The new financial year is yet to bring cheer for the auto industry. Passenger car sales, which have already recorded the sharpest drop in the last 12 years in FY13 at 6.69%, are expected to remain subdued for most of the current fiscal on the back of depressed consumer sentiments, uncertain economic growth and rising ownership costs. The growth in car volumes in FY14 is likely to remain at 3-5%, while the overall industry volumes may rise by 6-8%, Society of Indian Automobile Manufacturers (SIAM) said on Wednesday in its annual business forecast.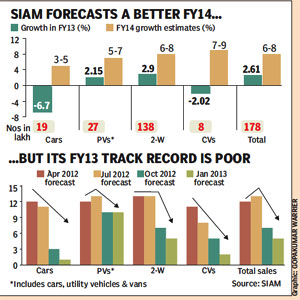 We should get back to some growth for cars, but we feel the first two quarters will be tough and things will get better only after. Predictions of a 6.5% GDP growth, revitalising stuck infrastructure projects and a drop in petrol prices by R4-5 will help push demand, Vishnu Mathur, director-general, SIAM, said. The last time car sales fell as sharply was in 2000-01 (7.73%).
A continuation of the strong demand for diesel vehicles is expected to push utility vehicle (UV) sales, boosting the total passenger vehicle (PV) segment (includes cars, vans, UVs) by 5-7% in FY14. This will be a similar trend to the last fiscal when despite car sales being in the red, a 52% growth in UV volumes helped total PV sales rise 2.15%.
Two-wheeler growth is expected to be 6-8% in FY14, led by a strong demand for gearless scooters. This is compared to a 2.90% rise in volumes in FY13, where bike sales had been flat but scooter volumes were up 14.24%.
Meanwhile, commercial vehicle (CV) sales are expected to improve after a very slow year, especially for medium and heavy CVs. Latent demand in the market, growth in economic activity like mining and a 1% drop in excise duty in truck/bus chassis announced in the Budget this February are expected to boost total CV demand by 7-9% in FY14, with bus sales also getting a push on the back of the new purchases by state under the JNNURM II scheme. In FY13, CV sales fell 2.02%, led by a 23.18% drop in medium & heavy CV volumes.
The situation was bad across segments in the last fiscal. In two-wheelers and CVs, growth is lowest since 2008-09. We think many logistics firms who had postponed purchases will return to the market, Sugato Sen, senior director at Siam said.
In March, volumes were down across the industry with a cumulative decline of 7.76% (14.86 lakh units). Car sales in the month fell 22.51% at 1.80 lakh units, while total PV volumes dropped 13.01% at 2.56 lakh units. Two wheeler sales fell 6.96% at 11.01 lakh units, while CV volumes were down 6.04% at 84,956 units.