Jobs are back and so are job switches. And, no business would be more worried about it than the BPO industry, known for its high attrition rate.
The Rs 57,015-crore Indian BPO industry generated 90,000 jobs in FY09-10, which also kept attrition in check. But Nasscom data for the third quarter of the fiscalindicating marginal rise in attrition--is enough warning for HR managers at BPO companies to get their act together.
It is tough, considering that most BPO staff comprises either students or people waiting for a real job. The attraction is the fast buck and the search never stops on where to get the maximum salary. Take the case of Abhishek Kumar (25), who works in a mid-sized BPO as an agent, earning Rs 13,000 a month. Five years into the job, Kumar already has two job switches behind him. Ask him what drives his career path, and the answer is predictable, money.
The countrys largest BPO, Genpact, realises this and is working out bonuses and salary hikes to undo the damage of last years salary freeze. It plans to hire around 9,000 people, but it cannot match the hiring of 2006-07.
The Infosys BPO has far more elaborate plans. Aiming to hire 6,000 people this year, it has launched iRACE (Infosys role and career enhancement), an initiative launched in January to check employees from looking elsewhere. The company has also invested in an 18-month-long leadership programme in collaboration with the Welingar School of Management to help agents and associates grow. Commenting on salary hikes this year, Infosys BPO HR head Raghavendra K says, All of us live on hope. There are also meditation workshops, DJ nights and sports tournaments within the organisation to make the workplace fun.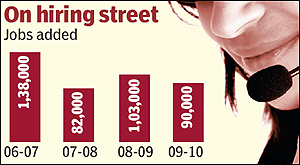 Karthik Sarma, chief peoples officer at the countrys second largest BPO , WNS , is all set to handle the expected job-hopping with a one-dimensional focus on training and development. We have restructured people, processes and teams to focus on employee engagement and tripled investment in learning and development recently, he says.
He also aims to give global exposure to employees, which would be a good reason to stick around. The HR team at EXL Services is more innovative, having launched an insurance academy recently to certify employees. Amitabh Hajela, global head of HR, EXL Services, says the company is now investing more in training to give employees domain-specific knowledge and an added reason to be loyal to the company.
The Convergys BPO banks on feel-good and has launched Will you be my Santa, a programme that engages employees to sponsor the education of 200 underprivileged children. On the professional front, the company continues its tested strategy of growth, promising employees to grow 33% in 15 months. For fun, there are guitar jamming sessions and trekking clubs, adds Ashutosh Sinha, director of recruitment. Manpower is our machine and we need to keep it intact, says Amit Roy, CEO, Caretel Infotech. At his end, he plans incentives across the board.
Raman Roy, chairman and managing director of BPO firm Quattro, believes that meddling with salary and benefits is short-term play. His focus is on in-house training that churns out an efficient group of high achievers.
He says, Attrition is a symptom and not a disease. It is bound to happen if there are more jobs.