A day after civil aviation minister Praful Patel cracked the whip on airlines for charging steep fares, operators said fares have risen on the back of at least 20% higher demand for air travel compared to the supply (seats availability).
According to an official from a full service carrier, The current prices are completely market driven. However, if one books in advance, he does not have to pay a premium for his seat. Also, airlines need to drive business profitably forward. He added that ticket pricing is also done taking into account other factors like the existing cost culture within the organisation. Air tariff on the Mumbai-Delhi sector for a round trip is currently at Rs 15,000 on the higher end and in the business class it could be over Rs 25,000. Patel on Thursday warned airlines against sudden spike in air fares and said the government would be discussing ways to keep fares under check as air traffic has been rising steadily in the recent months.
Meanwhile, the All India Passenger Association (APAI) lamented that the current fare levels are no justified given the sustained economic recovery which has started showing up in the sales figures of various airlines.
Says Sudhakara Reddy, president, APAI, In 2008, when crude oil peaked at $147 a barrel and later when the economic downturn hit the aviation industry, airlines had to grapple with higher operating cost, inflation, and decelerating profit, amongst other factors.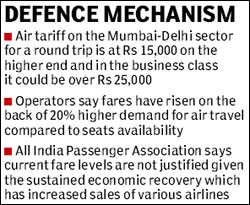 At that time, airlines defended their move by saying lower fares are eating into their bottom line and hence they cannot subsidise on fares. But at a time when crude has averaged at around $85 a barrel, and traffic has improved 20% over last year, fares should not be this high. He further said the association had several times met the ministry to get this issue redressed.
Private carrier Jet Airways had posted a net profit of Rs 12 crore for the second quarter ended September 30, 2010, against a net loss of Rs 407 crore in the year-ago period. The improving global economic scenario, coupled with network initiatives, provided a boost to passenger traffic in the second quarter for the airline. This helped the company increase income from operations to Rs 2,802 crore for the period under review against Rs 2,020 crore last year.
Also, the airlines revenues also rose 34% to Rs 3,105 crore against Rs 2,325 crore last year. However, though Kingfisher Airlines did not post profits for the same quarter, it posted net loss in the second-quarter of Rs 230 crore as against Rs 418.7 crore.
Its income from operations rose 24% to Rs 1,382.7 crore when compared with Rs 1,112.7 crore. The carrier said its operating performance grew significantly on the back of air traffic growth, improved network profitability and initiatives to reduce costs.