It was in March 2004 that Jet Airways first flew the international skies, taking off with a flight from Chennai to Colombo. It was a small beginning but by April the following year it was ferrying passengers to Singapore, London and Kuala Lumpur. And by early 2007, the airline already had a schedule of 600 flights a month. Ambitions were running high and Indias biggest carrier believed that in the next three years, or by 2010, it would be flying to every continent, except perhaps Australia. That has pretty much been achieved and in the three months to March, the airline saw nearly 2,600 departures each month.
While Jet had always harboured ambitions of being an international player, it was the increasing competition in the home market that drove it to step up the overseas operations.
Although the market in India was large and growing, low-cost carriers were eating into its share and crimping cash flows even as fuel prices soared. In late 2008, when the global economic crisis broke out, however, the airline was badly hurt and was forced to rethink its plans in order to prevent a big hit to its balance sheet. By September 2008, losses in the overseas segment had piled up to nearly Rs 300 crore and by March 2009 they had risen to Rs 665 crore on revenues of Rs 6,206 crore with loads at 66%. Jet opted out of the Mumbai-Shanghai-San Francisco route and decided it would be better off not flying Amritsar-London.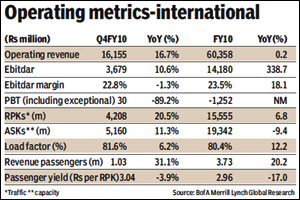 But with the Indian economy booming and the global economy on the mend, Jets international business is clearly looking up. As Sudheer Raghavan, chief commercial officer, Jet Airways observes, the volume of business traffic is picking up and loads on the UK/EU route were averaging 90%. In the three months to March 2010, loads for the international operations were a strong 82%, driving up revenues to Rs 1,615 crore, up 16.7% year-on-year.
With new introductions on the Gulf and Saarc routes, revenues were up marginally in 2009-10 at Rs 6,036 crore although the airline carried 20% more passengers during the year. Bank of America Merrill Lynch believes the international segment is close to breaking even, pointing out that losses for 2009-10 (including exceptional items) were just under Rs 125 crore.
Already, the global operations are eclipsing the business at home. In the three months to March 2010, global operations contributed just under 60% to Jets operating revenues of Rs 2,778 crore. Approximately 66% of the available seat kilometres (ASKs) that the airlines has, is on overseas routes. The good news, as analysts point out, is that in another six months or so, 80% of revenues will flow in from routes that are over two years old, thus, making yields more stable. Moreover, by then all routes should generate profits except perhaps the US ultra-long haul. As Citigroup points out, using Brussels as a hub, from May 2007, has worked well for Jet. Its not surprising, therefore, that after lying low for about a year, Jet is once again focussing on the overseas business. Since the planning period before the launch of a new route could take as much as a year, Jets already on the job. Says Raghavan, Were going back to the drawing board and will probably expand the operations because both Europe and the US are good markets for us. We had pulled out around 100 seats per flight on the US route and we should have them back. Also, three of its aircraft that we had leased out in late 2009 will also be back in our hangars soon. Currently, the carrier is operating 87 aircraft. Given that its hard to predict how soon the global economy will recover, Jet will take it one step at a time and will probably increase capacity by a modest 5-6%. A blueprint should be ready in the next three months. The timing seems to be right. Says Nikhil Vora, managing director, IDFC Securities, Its a good time to step up activity overseas. The idea right now should be not to add new destinations but populate the existing ones and take away share from the likes of a Cathay Pacific or British Airways. If youre already loading 80%, its evident that there is consumer propensity to fly these routes.
Raghavan believes filling up seats is not the challenge, especially the first and the businesses classes. Load factors for premium seats have gone up from 25% to 55% in the last nine months. There are enough passengers but the challenge is to increase yields, because the bulk of the capacity is price-sensitive and so if the market flips its a problem, he explains.
As Arvind Mahajan, executive director at KPMG, points out, Jet does command some amount of pricing power because a fairly large chunk of the passengers are Indians travelling overseas and many of them fly Jet Airways in India and are frequent flyers. A good part of the clientele being of the corporate variety, price is even less of an issue. To that extent, the airline has been able to leverage its base in the home market. That apart, the hospitality on board is both efficient and friendly unlike that on other foreign carriers where the service may be good but not necessarily friendly.
Jet hasnt just leveraged on its clientele, its also using the vast network in India to good effect. As KPMGs Mahajan points out, not everyone is going abroad from Mumbai or Delhi; there are travellers from smaller towns, too. And Jet is using its connections to the smaller cities to drum up business for its international flight. Having built up a critical mass in the overseas segment, the operating leverage is kicking in. Since its not enough to have just one flight to a destination, Jet has been adding flights on existing routes. And its what Jets looking to do in the future. For instance, Jets daily flights to Hong Kong have been packed and Raghavan confirms its a high yield sector, its possible that the airline might want to add a flight. Raghavans not too concerned about the competition from newcomers like SpiceJet, which intends to start flying a few South-Asian routes soon. We have a spectrum of products in our arsenal and competition is something new for us, he says. Yet, should SpiceJet start flying the Gulf routes, which are already very competitive, it would be difficult for Jet to increase yields on those routes, he adds.
With business in the home market looking up, Jet should not be short of cash flows to fuel any additions to its fleet. In December last year, the carrier reported its strongest passenger growth in three years, the result of focussing on the low-cost arm Jet Konnect and some rationalising of routes. Since then things have only gotten better and its possible the carrier will fly 15% more passengers in 2010-11 than it did last year. As IDFC Securities Vora explains, The incremental need for money is not as strong as it was some time back, with yields likely to remain stable and loads running at 80%. Bank of America Merrill Lynch estimates revenues for the airline in the current year will nudge Rs 14,000 crore, clocking an increase of around 17%. Moreover, it expects net profits to come in at around Rs 240 crore reversing the losses of Rs 675 crore reported for 2009-10. That should send the airline soaring once again.