Chennai-based Aban Offshore, the country's largest offshore drilling company in the private sector, has been forced to roll over its debt repayment till 2019 in tranches across 10 years. Out of the total debt of $3,279 million (around Rs 16,600 crore) on its books, the company plans to pay close to $1,226 million across this period.
Aban's debt repayment was originally scheduled to be completed by September 2010. Out of the total debt, 58.5% was foreign currency term loans ($1,917 million), 24.7% foreign currency denominated notes and bonds ($811 million) and 16.8% rupee-denominated loans, which is equivalent to $551 million.
According to the debt repayment schedule, the company will repay $148 million this year, $196 million in 2011, $268 million in 2012, $298 million in 2013, $342 million in 2014 and $1,107 million during 2015-19 towards loan and bond amortisations. And towards loans and bullet loans, it would make arrangements to repay $187 million in 2010, $160 million in 2011, $374 million in 2012, $80 million in 2013 and $46 million during 2015-19, leaving 2014 as a non-repayment year.
"Debt repayment is relatively spread out over 10 years with no large repayments falling due in any year. The bank loans -- both rupee as well as foreign currency -- are mainly from Indian banks and they have been supportive of the company's growth," Aban said. The company has already approached its main creditors to roll over the debt.
Times turned tough for Aban after its Singapore subsidiary Aban Singapore acquired Norwegian drilling giant Sinvest in a $1.3-billion leveraged buyout.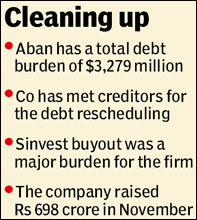 The company has plans to list its Singapore subsidiary to raise cash to part-pay its debt. The slump in the offshore drilling space also hit company's cash flows.
Aban told analysts that that the company would increasingly focus on generating cash flows by scaling up balance utilisation levels. Deleveraging and strengthening of balance-sheet, coupled with pursuit of strategic growth opportunities in the long term would be key fundamentals of its new strategy.
The company would be targeting new markets with a continued focus on health, safety and environment standards. Aban had raised equity capital of Rs 698 crore in November 2009 mainly from domestic mutual funds and FIIs.
Aban currently has orders from Brunei Shell Petroleum Sendirian Berhad and Qatar, apart from India. Its net profit rose 31.7% to Rs 73.60 crore from Rs 55.87 crore, during the quarter ended December. Its topline has grown by 14.8% to Rs 300.32 crore. Aban provides oil field services for offshore exploration and production.