AAP leader Arvind Kejriwal will be sworn in as the 7th Delhi chief minister at the Ramlila Maidan in New Delhi on Saturday. (PTI)
Aam Aadmi Party (AAP) leader Arvind Kejriwal will be sworn in as the seventh Delhi Chief Minister at the Ramlila Maidan here on Saturday, along with his six-member council of ministers. He has been asked to prove his majority on the floor of the house by January 3.
Speaking to mediapersons on Wednesday, Kejriwal announced that his government would keep the AAP promise of 700 litres of free water daily to every household wherever possible within 24 hours of assuming office. He also promised that the Jan Lokpal Bill would be passed within 15 days.
In effect, not every aam aadmi is likely to get this daily freebie, not for some time.
Taking one household to be a family of five, it is a promise of providing 140 litres of water per person per day. Officials said while the national capital territory has the kind of water and money to make this dream come true theoretically, transmission and distribution losses are as high as 30 per cent.
The Delhi Jal Board (DJB) supplies 835 million gallons of water everyday. As per the 2011 Census, approximately 80 per cent household in Delhi receive piped water supply of the 33.41 lakh households, 27.16 lakh (81.3 per cent) get piped water. So, on an average, about 500 litres of water reach about 80 per cent households each day.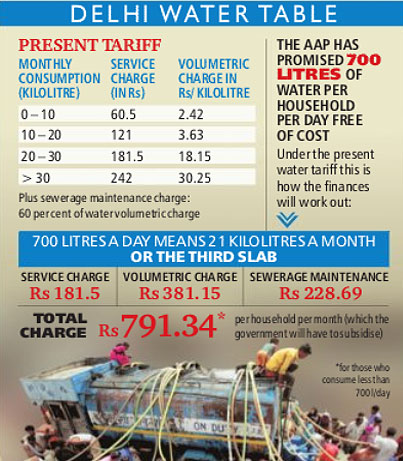 The remaining 20 per cent, dependent on water tankers for daily needs, do not get more than 200 litres of water per day.
Only 50 per cent of these household colonies with piped supply are planned and developed, example Mayur Vihar and Sarita Vihar. They get good water, with gross supply of over 700 litres. The other 30 per cent households, which now have piped supply, were the unplanned unauthorised colonies. They do not get gross supply of over 200 litres per household day, said Ramesh Negi, former chief executive officer of DJB.
The 20 per cent households that do not get piped water get supplies via tankers free of cost with a gross per capita availability of not more than 40 litres per day.
For now, a subsidy in supply of 700 litres of water per household will only benefit the 50 per cent that anyway gets that kind of supply. The challenge here is to make distribution equitable in Delhi, to first be able to give 700 litres of water to every household. At least 50 per cent of the households in the city get 200 litres of water on an average, Negi said.
On Wednesday, Kejriwal said: We will fulfill the promise of 700 litres of free water per household wherever possible within 24 hours. Wherever it is not possible, we will work towards making it possible.
A senior DJB official said it was still too early to understand the contours of the AAP plan. The government will first take the decision, said the official.