The Airports Authority of India (AAI) is considering three options to raise money to fund the modernisation and expansion plans of its 35 non-metro airports. The options are: raising debt, mopping up funds through internal resources and involving private parties to develop the city-side of these airports. AAI needs nearly Rs 15,000 crore to upgrade non-metro airpots.
We have ended FY10 on a positive note. We have taken loans of Rs 200 crore last year. We also have the governments budgetary support of Rs 600 crore, Praveen Seth, member, (operations), AAI, told FE on the sidelines of Aerodrome India 2010. He, however, did not give details of the financial standing of AAI. Mumbai International Airport (MIAL), which has been awarded the modernisation project of the Chhatrapati Shivaji International Airport in Mumbai, has a 74:26 joint venture between AAI and itself. MIAL gave more than Rs 300 crore to AAI as its share of revenues for FY10.
AAI is planning to raise over Rs 2,000 crore from banks in the medium term. It has already appointed consultancy firm KPMG to advise it on fund-raising. The airports operator is planning to raise over Rs 5,000 crore; although this can be done only after according itself a company status by amending the AAI Act.
AAI, which is in desperate need of funds to upgrade smaller city airports, also wants to carry out the city-side development of these airports. For the purpose, as and when modernisation process of any airport comes up, it immediately invites open tenders for development of facilities like hotels, conventional centers, flight kitchen, petrol pump, retail shops, cargo facilities and parking, etc.
The amount to be spent for city-side development at each airport would depend on the bid to be submitted by the successful bidder selected through a competitive bidding process.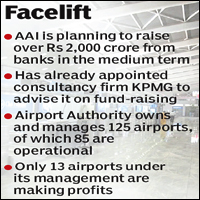 The city-side development has been already proposed for airports in Kolkata, Hyderabad (Begumpet), Ahmedabad, Amritsar, Guwahati, Jaipur, Trivandrum, Lucknow, Madurai, Mangalore, Khajuraho, Surat, Vadodara, Bhopal, etc. Modernisation of these airports will be carried out soon.
The government-owned Airport Authority owns and manages 125 airports, of which only 85 are operational. Of these 85, only 13 are making profits. The authority plans to increase the number of profit-making airports to 25 by the end of the next financial year.