Salt-to-software conglomerate Tata is standing taller even in the midst of global economic turbulence with an enhanced brand value. After breaking into the top 50 Brand Finance Global 500 rankings in January 2011 at 50th spot with a brand value of $15.08 billion, Tata climbed up to 41st position in a revised list of Top 50 Most Valuable Global Brands in September with a new brand value of $15.75 billion. This is an impressive appreciation of 113.4 % from rank 103 at $ 7.38 billion in 2007. The list was updated in wake of an impending global slowdown and was shared exclusively with FE in India.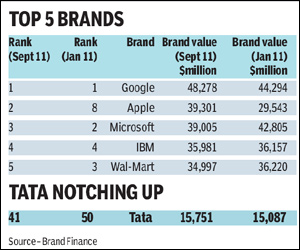 Tatas corporate brand value was heightened by the key businesses of the group, which includes Tata Motors with a combined brand value of Jaguar and Land Rover, Tata Motors India, other JVs and subsidiaries that was enhanced by the historic turnaround of JLR; Tata Steel with Tata Steel and Tata Steel Europe through a customer-led business model; and Tata Consultancy Services holding on to the position of Asias largest software company.
In the global scenario, technology and electronics brands are prospering, with Google, Apple and Microsoft taking the top three positions. The Do-No-Evil company, Google, retained its numero uno position with a brand value of $44.28 billion. But the expected gainer was Think Different company Apple, which displaced Microsoft from the number two position. Apple clocked a brand value of $39.3 billion in September 2011, compared with $29.54 billion in January 2011a substantial jump from eighth to second spot, registering a 33% hike in brand value. This makes it a more valuable brand than Microsoft for the first time.
Be Whats Next company Microsoft slipped from the second spot by a whisker with a brand value of $39.01 billion. IBM remained constant by retaining its number four position at a brand value of $35.98 billion. Wal-Mart, which slipped from number one spot in 2010 to number three in January 2011, further slid to number five in September with a brand value of $34.9 billion. However, the other big gainer in the top 10 league was Toyota, which climbed up from number 14 in January to number eight in September with a brand value at $28.8 billion in September compared with $26.15 billion in January. At number 12, Samsung emerged as a notable performer, increasing the value of its brand to $26.6 billion (up 24%). The South Korean company has not experienced supply chain disruptions like its Japanese competitors, and is developing a stronger hold on both the TV and smart phone markets.
As per Brand Finance, which also publishes the Global Intangible Financial Tracker League Table (GIFT), the present economic conditions have caused intangible assets valued at $ 6.3 trillion to be lost since January 2011. But despite the 25% fall in GIFT a study that tracks intangible asset values of most public stock exchanges worldwide the Brand Finance Global 100 brands witnessed a marginal, 2.4%, drop in their combined value in September compared to January 2011.
As per the latest Brand Finance report, financial service brands were hit the hardest. Tougher legislation, sluggish activity in corporate markets and ongoing fears regarding exposure to sovereign debt translated into banking and insurance brands suffering the most.
Bank brands in the top 100 lost $25.9 billion from their total brand value (7%) since January 2011. HSBC became the worlds most valuable bank brand, maintaining a steady position at number 10 with a brand value of $27 billion. However, Bank of America experienced a fall in brand value of $5.3 billion, taking it down to position 14 from number 6 in January 2011. Likewise, Wells Fargo saw a 12% reduction in brand value and Santander also slipped with a reduction of $3.3 billion in brand value.
Expectedly, US brands dependent on their home market suffered bigger losses than global brands, with McDonalds, Nike and Coca-Cola all improving their position in the league table. Europe, too, felt the pressure with Spanish brands down 13% and French 5%, both on account of upheaval within the financial services sector.
On the other hand, emerging economies, including China, India and South Korea, had strong performances with a brand value of $151.5 billion. As many as 13 brands featured in the global 100 list from developing nations.