In the wake of US President Barack Obamas healthcare reforms and the $200-million Universal American Corp deal, Patni Computer System is now bullish on mixed shore models for healthcare insurance.
After clinching the deal, Patni has also taken on board the 300 employees of CHCS Services, a subsidiary of American Universal Corporation. Patni also acquired another onshore facility in El Paso, Texas recently.
Commenting on the CHCS Services deal, Patni senior vice-president and global head (insurance) Ganesh Iyer told FE, The subsidiary has 15 other companies as business clients and this acquisition will help us explore the opportunity to cater to them.
Patni senior vice-president & global head (BPO) Sanjiv Kapur said, We have fronthead operations in the US now with back office in India. BPO was earlier a 99% offshore job and now as the nature of business is transforming it will be 75% in India and remaining 25% in the US.
Apart from US, the firm is hopeful of penetrating in the matured UK healthcare market as well. UK is a mature market where healthcare is nationalized and thus the focus of the company would go there as well. Patni is in significant preliminary talks with some of the private sector players in the domestic market for healthcare services, Iyer said.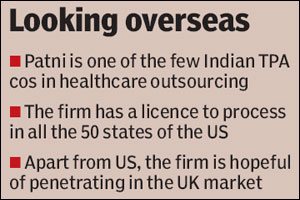 Kapur believes that healthcare growth will lead the BPO growth 18 to 20% in the coming years and is also one of the fastest growing segments for Patni. Patni is one of the very few Indian TPA (third party administration) companies in the healthcare outsourcing sector and now has a license to process in all the 50 states of the US. It will offer actuarial services, care management, underwriting and data entry services by approaching all the insurance companies in the US.
Saugata sengupta, senior analyst at Tholons Advisory firm explains that, With the sizable opportunity in healthcare post-ARRA (American Recovery and Reinvestment Act), working as a TPA offers an additional advantage and significantly higher value proposition for vendors in attracting insurance and healthcare clients, as compared to the traditional outsourcing model. Patni also faces tough competition from Perot systems and CSC in healthcare. Iyer said that Patni would concentrate on niche segments like disability insurance and medical supplements to specialise. He sees a lot of growth in medical supplements where CSC is also a significant player.