The countrys second largest state-run lender Punjab National Bank (PNB) has agreed to sell 26% stake in its wholly owned housing finance subsidiary, PNB Housing Finance (PNBHFL), to the US-based Destimoney Enterprises.
The US company was earlier known as Dawnay Day. Though the stake sale announcement was done on Wednesday, the decision by the bank's board on the move was taken in May. The bank would sell 78 lakh shares of PNBHFL at Rs 101.5 each.
PNB chairman & managing director KR Kamath told FE, The total value of the deal was Rs 217 crore. While the sum of Rs 79.16 crore has been paid to the bank by the company, the balance of Rs 137 crore would be converted to unsecured loan."
"The idea was to grow our housing finance arm into a bigger company as we have got a much better vision for the company," he said.
Accordingly, the definitive agreements in this regard have been executed by the bank, PNBHFL and Destimoney Enterprises (the investor). Destimoney Enterprises also has an option to increase their shareholding in PNBHFL up to 49% of the share capital of PNBHFL.
This debt will get converted into equity at Rs 101.50 per share as per the capital requirement of the housing finance company over a period of two years. Therefore, Destimoney will increase its stake up to 49%. However, PNB will retain majority share holding at 51%.
Destimoney is a specialised retail financial services company headed by its CEO Vivek Vig. It has four business lines namely retail broking, distribution of financial products, wealth management and portfolio management services. It has a network of 133 branches across 72 cities with over 3,000 employees. PNB believes that the tie up with Destimoney will yield a more focused strategy which will result in a sharp growth in business.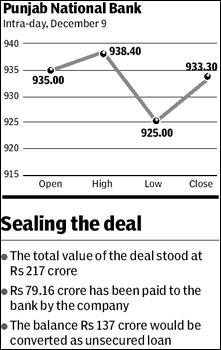 The board of the new housing finance company that is being reconstituted and includes GN Bajpai, ex-chairman Sebi & Life InsuarnceCorporation Ltd and PK Gupta, ex-chairman of National Housing Bank.
PNB had promoted its housing subsidiary in November 1988. Since then, PNB Housing's total loan assets for the year ended March 31, 2009 have grown to over Rs 2,300 crore and after tax profit to Rs 53 crore. The company operates with a network of 30 branches across the country.