Mid-tier IT firm MindTree is exiting its much-hyped product business as the firm can no longer make the huge investments required to sustain it. The firm on Tuesday said it is winding down its ready-to-brand Android-based 3G handsets business, which was sucking up too much cash and eating into its profitability.
The product business would now be converted into a services business and joins a long list of Made-in-India technology products that have died a premature death.
CEO & MD Krishnakumar Natarajan said it was a practical decision given that the highly-competitive handset business would have required a capital infusion of $50-70 million to sustain. At this juncture, this is the right decision considering our stakeholders interest. We see a tremendous services opportunity around the capabilities that we have developed, he said.
MindTree announced its second quarter results on Tuesday, and said the product business had made a loss of $4.5 million in the last six months. The losses only increased from the first quarter of the year from $1.2 million in Q1 to $3.3 million in Q2, shrinking the firms margins by more than half from the same period last year. Consolidated operating margins during the September quarter stood at 7%, down from almost 16% in the year-ago period. MindTree reported net profit of Rs 23.2 crore, down from Rs 50 crore in Q2 last year. MindTree entered the mobile products business after the acquisition of Kyoceras captive unit in 2009. It had planned to launch the first handset in the December quarter of this year. The firm's management said that margins would see a higher trajectory from now on because of the more profitable services business. The product expertise acquired will be leveraged to deliver services around 4G, in outsourced product development and R&D kind of work. The transition to the services business would be completed by December this year.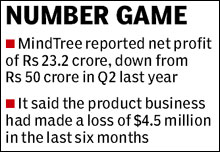 The product business apart, MindTree's Q2 performance signaled an improving business climate. The firm grew volumes by more than 8%, clocking revenues of Rs 384 crore versus Rs 315 crore in the year-ago quarter.