In a move that could help unlock large chunks of rural land usable for industrial projects, the Centre has decided to rope in states for a mammoth project to create a national database of 2 lakh sq km of land which is currently without clear titles. It would also give guaranteed land titles to millions of people in rural areas to avoid disputes while the land is acquired for industrial use.
According to official sources, the government also aims to fully computerise all land-mapping systems in the next three years at a cost of Rs 5,656 crore, which will be fully borne by the Centre.
The idea is to introduce conclusiveness about land titles and ensure guaranteed and just compensation to the right owner, when the land is taken over.
The process of registering land titles will also be expedited so that transfer of titles would be swift, as the government plans to do away with the existing stamp paper system.
Survey work for the land bank project has already been initiated. The Bill Gates Foundation, the World Bank and Asian Development Bank are expected to help the government in the project, official sources said.
The move to free large chunks of unused/locked-up rural land is to encourage corporates to buy them without any encumbrance. Currently, these land parcels do not have any undisputed owners unlike those owned by farmers; so, efforts to acquire them often end up in messy disputes.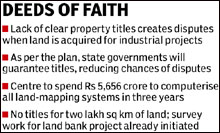 The land titles would be guaranteed by the respective state government. At present, there is no clarity on land titles in rural areas which often leads to ownership disputes.
We are working on a very important project to integrate around 4,000 land registrar offices across the country. This would eliminate problems due to lack of coordination among area tehsildars while allotting land. Fertile land will not be given for development if there is a semi-arid or a single-crop land or infertile land available in the vicinity. When a plot is purchased, a built-in compensation would be charged from the buyer, which would eliminate the need of stamp paper and save time, a senior rural development ministry official said.
Sources say that land disputes in Singur and Niyamgiri could have been avoided had corporates been given land on barren tracts in the vicinity.
The Registration Act of 1908 makes registration of land deeds compulsory, but not mutation of titles. Therefore, lack of state guarantee of title leads to unclear titles, resulting in disputes. A large chunk of developable land is locked up in litigation across the country.
According to the plan, the Centre, states and private players would take up land survey, which itself is a very time-consuming and long-drawn process. Eventually, maps would be developed for each state stating soil codes, which would be updated regularly.