The land acquisition process for Haryanas first nuclear power plant has started at Gorakhpur village (around 175 km from Delhi) in Fatehabad district.
The site has been finalised by the Nuclear Power Corporation of India Limited (NPCIL) for setting up the states first 4X700 mw nuclear power plant. As per the officials of Haryana Power Generation Corporation (HPGCL)the nodal agency for the projectthe land acquisition officer has already started issuing notices to the land owners under section 4 of the Land Acquisition Act and the land will soon be under state government's possession.
HPGCL managing director Sanjeev Kaushal said, The project will be set up over an area of around 1,400 acre and additional 150 acre will be required for the residential purposes. Notices were issued to the land owners by the land acquisition officer about a month back. The project will require investment close to Rs 12,000-14,000 crore over a period of time.
The site for the nuclear power plant was selected after the high-level land selection committee comprising engineers of NPCIL visited three villages namely Gorakhpur, Kajalheri and Kumharia early this year. The site was found suitable in terms of availability of land, water and distance from populated places. Moreover the NPCIL officials have termed the project completely safe with the radio activity levels much below the safe limit.
Another power department official told FE that the project will pose no threat to the health as it will be a green project with zero emission. Regarding the water supply NPCIL will utilise ground water reserves which occur in abundance in that region. Moreover the state government has assured supply of 320 cusecs of water for the project, said the official.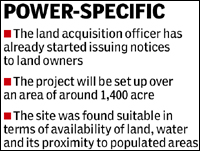 The official further added that the pre-project activity is likely to be completed by 2011 and the first phase of the project will be complete by 2014 and beyond. Two units of 700 mw each will be set up under the first phase. NPCIL has already made arrangements for supply of uranium to the plant.
The nuclear project once fully operational will provide cheap and clean source of power to Haryana and the neighbouring states.