A company that powers the telecom networks of half of Indias 14-odd operators, including two state-owned companies, is routinely being described in government correspondence as a virtual Chinese mole. And this, when Huawei Technologies, the Chinese telecom equipment maker in question, has been in business in India for around a decade. Is the company caught in a security bogey, competitive crossfire here or is there more to such startling noting on the security agencies files
The minutes of the latest meeting of the Foreign Investment Promotion Board (FIPB) while deliberating on a case regarding Huawei clearly bear the governments apprehension: Huawei is a company founded by a Peoples Liberation Army officer and the company has the capability to remotely manipulate the equipment it supplies to its clients. This piece of information on the company was communicated to the FIPB by the home ministry.
The revelation is startling and would alarm anybody with security concerns. However, its not the first time the government has acknowledged this bit of information. In virtually every bit of correspondence and file notings, the security agencies have for the past three-four years, been making similar observations while Huaweis growth in the country has been on a trot. Of the countrys 14 operators, it has supplied equipment to seven and the growth has been phenomenal since 2008 when the government awarded new telecom licences. All the new entrants opted for Huawei while placing equipment orders. To top it all, state-owned BSNL and MTNL also use Huawei equipment.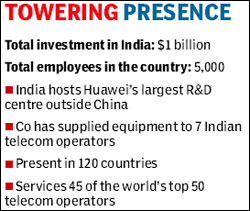 The sudden alarm in the government to consider a blanket ban on Chinese equipment which was preceded by insertion of a new clause that all equipment imports need security clearance from the Department of Telecommunications surely indicates that something is amiss. The moot point, however, is why the government chose to act now More importantly, what makes Huawei tick with the mobile operators
The economics first: Huawei supplies equipment 25-30% cheaper than the industry average. According to an industry official, seeing the size of the order, the price differential can be to the extent of even 70%. Second, its delivery time is three months against 12 months for most of the others. Third, it provides vendor finance and fourth, it can commission 3,000 base transceiver stations a day, while most of its competitors can do only 650. No wonder, it makes sense for operators to place orders with it. This is best illustrated by all new operatorsUninor, Sistema Shyam and Videoconplacing orders with it.
Says Romal Shetty, telecom analyst with KPMG on the recent fracas: The issue is whether the government has identified any instance where information has been leaked or stolen or any instances of seizures where it has found any such spy software. Secondly, some operators have already ordered equipment from the vendor and will be awaiting delivery. Any move now by the government which stalls delivery of these items will delay the business plans of these telecom operators.
Now lets come to the security aspect. Telecom operators, on conditions of anonymity, do not rule out the possibility of spyware in networks and their inability to detect them. Spyware are like virus scan software embedded in switches and can scan all calls and transmit them as data. Call routers to route calls to any destination can also be installed. The problem is that such spyware are written in complex codes, which cannot be detected and decoding them is complex and time-consuming, a senior technology officer at one of the leading operators, which uses Huawei equipment, told FE.
This is not for the first time that Huawei has run into this kind of a problem. It has run into problems in certain other countries as well, where some restrictions have been placed on it.
The governments move is strongly defended by BK Syngal, senior principal, Dua Consulting and former chairman and managing director of VSNL. The security of the country is of prime importance and if the government has any such apprehensions, then it is the responsibility of the vendor to prove otherwise. The government doesnt act on hunches. There must have been some evidence of certain stealth or theft of information. All countries have security requirements and they must be met by all, he said.
On its part, Huawei has sought a clarification from the government on the issue. It has said that it is willing to demonstrate its quality and security standards and its officials have sought meetings with top Indian authorities.
It said that 45 of the worlds top 50 operators have chosen its equipment. The company has its largest R&D centre outside of China in Bangalore , and employs more than 5,000 Indian professionals in technical and managerial positions in locations across the country. Huawei said that it is also planning to establish an Indian corporate governance board of directors to advise it on operational and regulatory issues in the country.