Powered by a rebound in agriculture growth and a robust expansion in savings and investment rates, the countrys economy would grow at 9% or slightly more in the next fiscal if there is no disproportionate spike in crude oil price, the Economic Survey has forecast.
The survey also endorsed the 8.6% growth projected for this fiscal by the National Statistical Organisation and the Prime Minister's Economic Advisory Council.
The high inflation level of 8.23% in January and the recent slowdown in industrial output growth a 20-month low of 1.55% in December from a year ago could slow the growth momentum in the short run, the survey said.
The dismal performance in industrial output growth is only a temporary speed-breaker due to the high base effect, which made it difficult to repeat the 18% growth recorded a year ago, the Survey noted. Food inflation, which was at 20.22% in February 2010, has declined to 9.3% now but is still a matter of concern.
The Survey has forecast that the economy is now poised to return to the strong 9%-plus growth rate that characterised the three years starting 2005-06 before the global economic crisis brought it down to 6.8% in 2008-09.
The upwardly revised 8% growth in 2009-10, the 5.4% growth in agriculture expected this fiscal against a 0.4% growth a year ago and the strong performance in the services sector that accounts for more than half of the economy indicate that growth is widespread in the economy.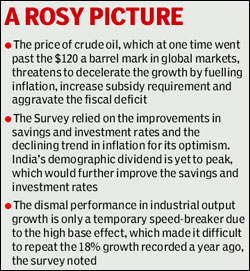 The Survey also relied on the improvements in savings and investment rates and the declining trend in inflation for its optimism. Besides, India's demographic dividend is yet to peak, which would further improve the savings and investment rates boosting economic growth.
However, the price of crude oil, which at one time went past the $120 a barrel mark in global markets, threatens to decelerate the growth by fuelling inflation, increase subsidy requirement and aggravate the fiscal deficit, which was originally estimated at 5.5% of GDP at the beginning of the year. The government has provided only R3,108 crore as oil subsidy in the Budget this fiscal, but the requirement rose to R72,000 crore when the price of crude oil jumped to $90 a barrel last quarter. At the end of the fiscal, the actual requirement could rise further.
Rising crude oil price could also deteriorate the balance of payments position and put downward pressure on exchange rates, rendering exports less valuable and imports costlier, petroleum minister Jaipal Reddy said earlier this week.