The countrys largest telecom operator, Bharti Airtel said on Sunday that the government-appointed special auditor has given it a clean chit. The special audit was ordered by the department of telecommunications last year on the countrys top five telecom service providers to verify if the firms had underpaid licence and spectrum charges to the government.
Bhartis statement comes in the backdrop of speculation in a section of industry that the audit report may have found some inconsistenciesin the companys reporting of subscriber numbers toDoT. Apparently, the company has sought to pre-empt any further speculation onthe subject.
The audit report was submitted to the DoT last week.
In October 2009, a similar audit had found Anil Ambani-led Reliance Communications Ltd (RComm) inflating its 2007-08 wireless revenues by Rs 2,915 crore to shareholders, while simultaneously under-reporting the figures to telecom regulator Trai. It had found that RComm made an under-payment of licence fee of Rs 315.9 crore in 2006-07 and 2007-08, a charge denied by Rcomm later.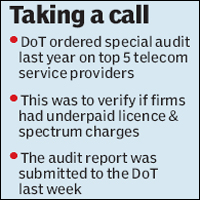 On Sunday a Bharti Airtel statement said the findings of the report has reconfirmed that all payments of licence fee and spectrum charges were as per laws.
The findings of the special auditors appointed by the department of telecommunications has reconfirmed that all payments of license fee and spectrum charges are as per the license conditions as well as applicable rulings of the TDSAT. The audit has been conducted in a fair and transparent manner, Manoj Kohli CEO & joint managing director of Bharti Airtel said.
Bharti Airtel has always maintained the highest standards of corporate governance and has displayed highest regard for the regulatory compliance, Kohli added. Kohli is now the CEO of the Bharti Airtels international business but was CEO India and South Asia for the period when the audit was conducted.
Bharti said the DoT had specifically indicated to the auditors to quantify the amount of licence fee even in those cases where TDSAT has ruled in favour of the industry.
This audit is another testimony of Bharti Airtels professional managements commitment and responsibility to its shareholders, government and regulatory bodies and is also a confirmation of the fact that Bharti Airtel always maintains highest standards of professional integrity by appointing best in the class statutory and internal auditors," Kohli said.
However, neither Bharti nor the DoT has released the findings of the audit report.